Curious about the impact of an Opportunity Culture?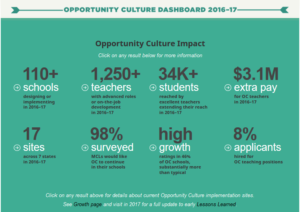 We've just updated our dashboard, as we will every year, with the latest statistics. Such as:
110+ schools at 17 sites in 7 states—and growing
34,000+ students taught by teachers extending their reach—a 50 percent increase from 2015–16
1,250+ teachers with advanced roles or on-the-job development—a 50 percent increase, too
Average pay supplements over $12,000, up more than $1,300 in one year
$3.1 million in extra pay for teachers via supplements funded sustainably through reallocation
Just 8.2% of applicants for Opportunity Culture advanced positions were hired
High growth for 46 percent of Opportunity Culture schools—a much higher percentage than among typical schools
Far fewer schools than typical made low growth (12%)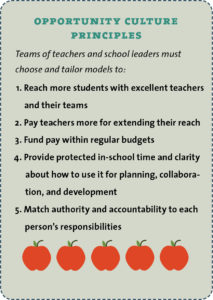 Districts that adhered closely and robustly to the five Opportunity Culture Principles exceeded growth targets in a far larger percentage of schools.
Public Impact, which created and leads the Opportunity Culture national initiative, updates the dashboard to describe implementation, show progress, and highlight areas for improvement of participating districts and schools.
The third year of OC implementation produced exciting results, along with lessons, in these still-early years of implementation.
More details from 2016–17:
In Syracuse, eight schools are implementing OC, and half started with single-digit proficiency; four of the five OC schools labeled "struggling" or "persistently struggling" in the state's accountability system moved off the state's receivership list, having met "demonstrable improvement plan" targets in the 2015-16 school year. Because the district's OC schools weren't distinguishable from others in the district on student growth, the district has already begun to increase its fidelity to the Opportunity Culture Principles in collaboration with Public Impact.
 See the OC Dashboard for more details and analysis.
"We are delighted by the progress that Opportunity Culture teachers have made–helping more of their colleagues succeed and helping more students excel. Public Impact's goal in 2017 is to provide even better guidance, based on data about our best schools and teachers, to the districts and principals supporting these amazing educators," said Emily Ayscue Hassel, Opportunity Culture co-founder.
Public Impact continues to conduct an extensive analysis of all outcomes so we can continually improve our materials and work with current and future sites to achieve the twin goals of excellent teaching for all students and outstanding career opportunities and support for all teachers.