Teacher and Staff Perceptions, Spring 2017
97%
of MCLs would like Opportunity Culture to continue in their schools
96%
of MCLs agree OC has improved the effectiveness of teaching in their schools
94%
of MCLs report a positive impact on staff collaboration and student achievement
95%
of MCLs agree they have new leadership opportunities, pay, and the chance to reach more students
94%
of all OC teachers agree that teachers are held to high professional standards for delivering instruction
96%
of MCLs and
89%
of all OC teachers agree that they receive feedback that can help them improve teaching
Improvements needed include providing more:
planning time
role clarity
targeted development to teachers serving on teams
communication about all aspects of Opportunity Culture – such as goals, teaching roles, and the positive impact on student learning.
Teacher and Staff Perception Survey Detail
Teachers and staff in Opportunity Culture schools in the 2016-17 school year answered a series of questions in early 2017 about their Opportunity Culture schools and roles.
Questions in Figure 1 provided by the New Teacher Center are used in many schools nationally (not just OC) and have been well-honed over more than 15 years to reliably convey teacher perceptions. Questions in Figure 2 are relatively new, specific to OC schools, and designed primarily to identify detailed improvement opportunities for each site and the national OC initiative.
We privately share district-specific data with OC districts to help identify areas for improvement.
See Figure 3 for a list of Opportunity Culture sites participating in the 2017 survey. Other districts implementing Opportunity Culture staffing models did not yet have new roles in place in early 2017.
Teachers indicated their level of agreement with a series of statements about Opportunity Culture, selecting from "Strongly Disagree," "Disagree," "Agree," "Strongly Agree."
Figure 1. New Teacher Center (NTC) Questions: Percentage of All OC Teachers, Staff, and Multi-Classroom Leaders (MCLs) Surveyed in OC Schools Who Agreed or Strongly Agreed with Statements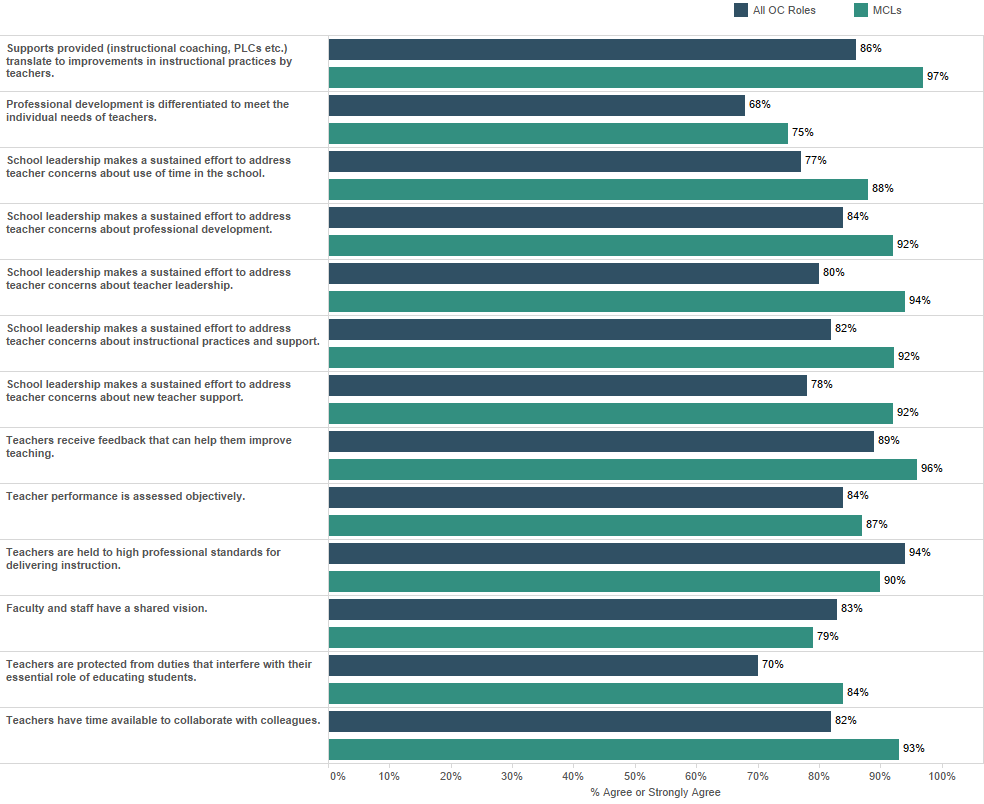 Figure 2. Opportunity Culture (OC) Questions: Percentage of All OC Teachers, Staff, and Multi-Classroom Leaders (MCLs) Surveyed in OC Schools Who Agreed or Strongly Agreed with Statements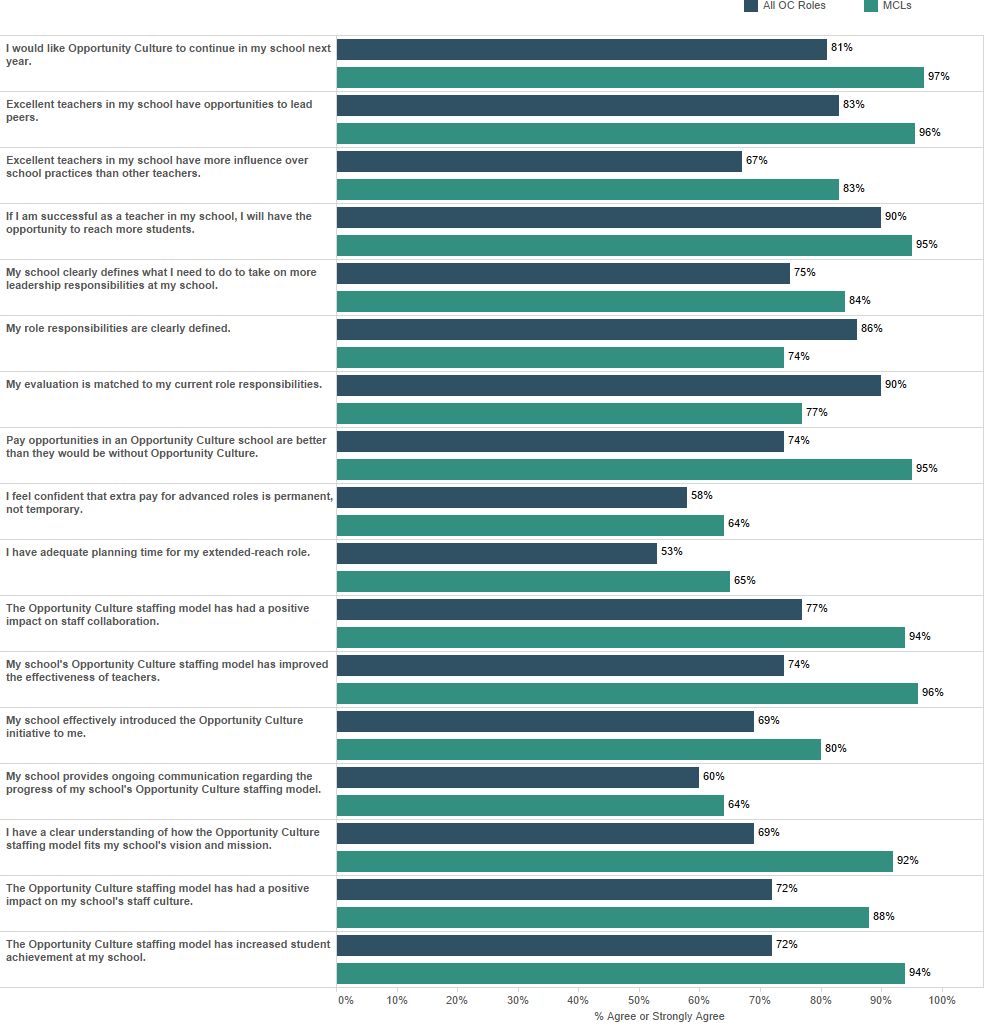 Note: "All OC roles" include MCLs, direct-reach teachers, teachers on MCL teams, and reach associates (advanced paraprofessionals or aspiring teachers who support OC teams).
Questions are from the New Teacher Center's Teaching Conditions Survey, which had their origin in the Office of the Governor, North Carolina (2002-2009).
Observations:
Overall: Opportunity Culture is popular with teachers—97% of MCLs and 77% of all staff in OC roles surveyed would like Opportunity Culture to continue in their schools next year. In addition, teachers believe that if they are successful, they will have the opportunity to reach more students (89-95% depending on role). Most staff surveyed report that OC has had a positive impact on staff collaboration (71-94%), student achievement (64-94%) and school culture (65-88%), and has improved the effectiveness of teachers (69-96%) (ranges vary by respondents' roles).
Common challenges: All staff need more information about OC implementation, and all would benefit from communications that clarify the vision and purpose of OC roles and the positive impacts for teachers and students. OC teachers need far more clarity about OC roles and better information about how pay supplements are sustainably funded. While most sites have room for improvement on most measures, they all share the need for more adequate planning time, particularly for non-MCL staff. Other areas for improvement include differentiating professional development to meet the needs of individual teachers and protecting teachers from duties that take them away from their most essential roles. Educators may also benefit from clearer tools that save them time.
District differences: Satisfaction with adequacy of planning time, increased pay, professional development, and clarity on leadership opportunities varied among districts. Though we do not show district-level data here, we share with individual districts the areas in which their results were markedly better or worse than OC schools nationally, and we provide recommendations for improvements.
Role differences: Teachers in different roles expressed notably different perceptions, with multi-classroom leaders responding more favorably than other educators on most items. Staff members in other roles need more information and transparency about OC implementation overall, including information about selection criteria for advanced roles and ongoing communication about how OC staffing models are implemented. Lower percentages of them agree that the supports they are receiving translate into instructional improvements or are differentiated to meet individual needs; MCLs and other OC staff may need more explicit communication about the elements of instructional excellence. They also need to see how advanced teachers are influencing schoolwide practices.
Figure 3. Participating Sites
Site
Big Spring Independent School District, TX
Cabarrus County Schools, NC
Charlotte-Mecklenburg Schools, NC
Fulton County Schools, GA
Harlandale Independent School District, TX
Indianapolis Public Schools, IN
Project L.I.F.T. Charlotte, NC
Syracuse City School District, NY