This toolkit helps schools and districts create an Opportunity Culture for students and teachers, in which all students have access to excellent teachers and their teaching teams, consistently, and all teachers have well-paid, financially sustainable career advancement opportunities and rigorous, job-embedded development. The toolkit offers step-by-step guidance for choosing and implementing the school models that allow great teachers and their teams to extend their reach to more students, for more pay, within budget.
This toolkit will help leaders of districts, schools, and charter management organizations engage their boards, central staff, school leaders, and teachers in the development, implementation, and refinement of an Opportunity Culture in their schools. Partners helping education leaders with organizing, school design, technology, or other elements of the change process will also find this valuable.
For ease of use and downloading, the toolkit appears in individual "phases" walking through the steps of building an Opportunity Culture. It begins with the Overview, an introduction to an Opportunity Culture and the school models and career paths at its foundation. The rest of the kit is organized into the key design and implementation phases, with related tools for each. Each phase includes a set of objectives, detailed action steps for accomplishing the objectives, and links to relevant tools and resources. New and updated tools are added regularly—visit this site for updated versions of them and this toolkit.
Click on the name of each phase below to view the phase's webpage with its accompanying tools.
This guide begins with an Introduction to an Opportunity Culture and the school models and career paths at its foundation. Readers will want to refer to the Overview throughout the design process.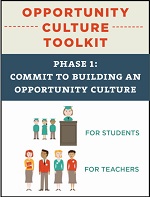 Phase 1 guides a district in securing the commitment of its leadership to extend the reach of its excellent teachers and build an Opportunity Culture, organizing a district design team, assessing the district's readiness, and setting the overall vision for the initiative.
In Phase 2, the district design team's work includes beginning to select its initial Opportunity Culture schools and set parameters for them, developing an Opportunity Culture Plan to guide implementation, and beginning to develop the necessary new talent, resources, and infrastructure policies.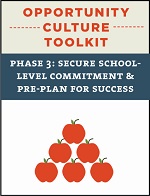 In Phase 3, the work of building an Opportunity Culture begins to involve individual schools, as a district introduces reach extension concepts to school leadership teams and secures commitments from its selected schools to building an Opportunity Culture. The phase shows how to establish a school design team and conduct a school needs assessment.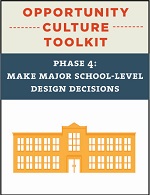 Building on the initial work of Phase 3, Phase 4 includes the crucial work of school design teams, as they begin crafting plans to implement an Opportunity Culture at their schools. A school design team will create a vision of an Opportunity Culture that fits its school; select and tailor the school model(s) best suited to its school; and develop detailed staffing plans.
As a school enters the final months before classroom implementation, Phase 5 will help its design team complete its planning and preparation, including a focus on talent, resources, and infrastructure, and begin the crucial work of communicating what an Opportunity Culture will mean to teachers, staff, parents, and community members.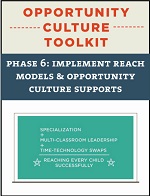 In Phase 6, design teams move fully from plans to action, completing their Opportunity Culture implementation for year 1, making ongoing adjustments to their plans, and continuing to communicate with and receive input from all those affected by an Opportunity Culture.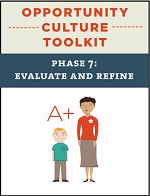 In Phase 7, districts gather and evaluate data to improve school model implementation in the short term, and focus on what will be most effective over time. Among other tasks, this phase will help design teams identify staff or external evaluators to lead the evaluation and improve reach implementation based on the findings.
A complete list of all tools for the entire toolkit can be found on this webpage.