An Opportunity Culture extends the reach of excellent teachers and their teams to more students, for more pay, within recurring budgets.
That creates a new virtuous cycle of selectivity, opportunity, and higher pay. All teachers can advance in their careers without leaving the classroom, though career opportunities based on excellence, student impact, and leadership. Advancement allows teachers to earn more and reach more students, and development toward excellence becomes possible for all staff, in every role. The virtuous cycle of excellence can begin with educator prep and continue through teaching, teacher leadership and the principalship.
Read An Opportunity Culture for Teaching and Learning: Introduction
See our Introduction to an Opportunity Culture slide deck (with and without speaker notes)
Learn more about our Opportunity Culture vision

What Makes an Opportunity Culture Different?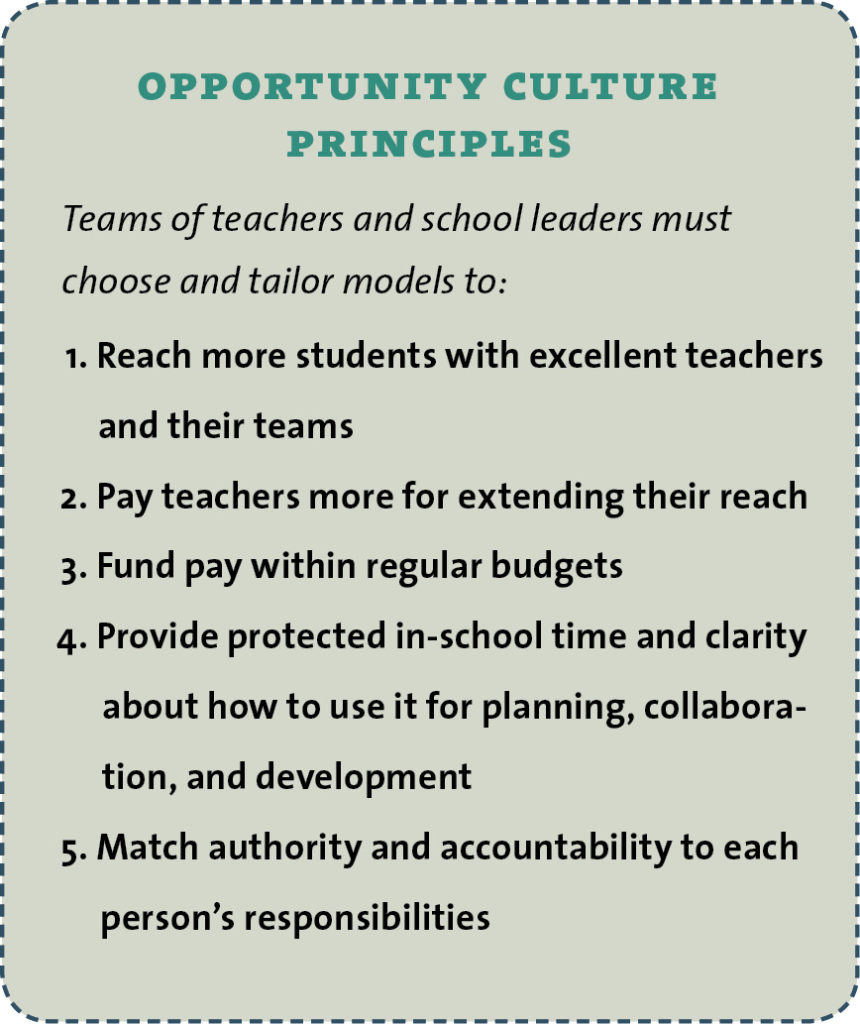 Opportunity Culture schools must meet our Opportunity Culture Principles, which highlight what makes an Opportunity Culture different, including:
Teachers lead the way. Each Opportunity Culture school creates a team of teachers and administrators who decide what Opportunity Culture models fit their school best and plan critical implementation details, such as how and when teachers collaborate.
Many more students are reached with excellent teaching. Excellent teachers—those who typically make about 1 1/2 years of progress each year with their students—reach more students directly or by leading teaching teams. Students need that excellent teaching to close achievement gaps, leap ahead, and develop higher-order thinking skills. Good teachers need more support and a team to make the leap to consistent teaching excellence with more students.
Large, permanent pay supplements are funded through reallocations of current school budgets—not temporary grants—making the higher pay sustainable. Opportunity Culture teachers are earning up to 50 percent more than average teacher pay—$5,000, $10,000, $20,000 supplements and more.
Teachers gain more protected, school-day planning and collaboration time, achieved through careful scheduling, and clarity about how to use that time. Teams collaborate to plan, review, and improve instruction. Multi-classroom leaders lead and develop teams to ensure success. How much do teachers value that daily, genuinely useful feedback and support? Watch them here.
Accountability matches the responsibilities of each person. Teachers can focus on their best subjects and roles with more students, with accountability matching what they take on. Multi-classroom leaders take formal accountability for the results of all the students served by the teachers on his or her team, unlike typical coach/facilitator/mentor roles.

Public Impact's Opportunity Culture Vision
This work began with a vision in 2009, leading to the national Opportunity Culture initiative in 2011. Learn more:
Our vision: An Opportunity Culture for All
Read why even strong, traditional human resource systems alone are not enough: Opportunity at the Top
How it all began—the early vision (since revised and updated in the papers above, with input from many classroom teachers): 3X for All