The Latest from Public Impact
How Strong District Opportunity Culture Leadership Helped Pave the Way for Low-Performing Schools to Succeed
When Dr. Tina Lupton and Dr. Timisha Barnes-Jones joined the Winston-Salem/Forsyth County Schools, Opportunity Culture implementation was happening in the midst of Covid. Lupton, the executive director of professional learning, and Barnes-Jones, the area superintendent for a network of 15 transformation schools, used their experience in other Opportunity Culture districts to help the schools make some adjustments. By the following year, three of those Opportunity Culture schools came off North Carolina's "low-performing" list; nine of the 11 schools implementing Opportunity Culture models either met or exceeded the bar set by the state for expected student learning growth—results they attribute in part to these models.
Lupton, who had worked closely with the Opportunity Culture director in neighboring Guilford County, and Barnes-Jones, who had been principal at West Charlotte High School when it became one of the first Opportunity Culture schools in the country, collaborate to ensure that Opportunity Culture understanding and support exist at all levels—bringing together multiple district offices such as human resources and finance, communicating with all area superintendents about Opportunity Culture implementation, and laying the foundation to spread Opportunity Culture models throughout the district.
Read our pieces highlighting their district-level work and the stories of two of the Opportunity Culture schools here.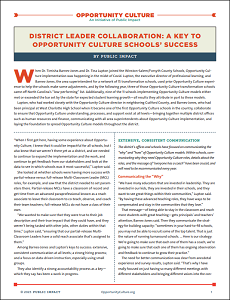 Opportunity Culture Explained
A Complete Opportunity Culture, For All: Summary —Research shows that educators in Multi-Classroom Leadership roles lead teaching teams to move from achieving average student learning growth to growth like or approaching that of top teachers. This two-page brief explains how a complete Opportunity Culture model can maintain these results and extend them to all preK–12 students and both current and aspiring educators.
How Innovative Staffing Can Address Teacher Shortages, Permanently—and Boost Learning—Staffing shortages have plagued some schools for decades. How can innovative staffing designs help—and boost learning? The Opportunity Culture initiative offers schools new tools to address staffing shortages, including high-paying advanced roles, improved support for new teachers, and staffing models that do not require filling every teacher vacancy to ensure that students have access to excellent instruction.
Understanding the Opportunity Culture Principles—This two-page guide helps schools and districts implementing Opportunity Culture school models and roles interpret the five Opportunity Culture Principles. The principles help schools ensure that roles extending the reach of excellent teachers and principals to far more students, and to their colleagues, are sustainable and effective.
The Science of Reading
The Science of Reading Introduction: Understanding the Simple View of Reading —This introductory slide deck details the simple view of reading equation—Decoding X Language Comprehension = Reading Comprehension—and distinguishes misleading conventional wisdom from facts based on research about teaching methods that boost students' reading comprehension. Start here, then turn to the Study and Action Guide for a structured process to put the science of reading into action. For speaker notes, see here.
The Science of Reading Part 1: Reading Comprehension Overview—Part 1 of this three-part training series providing guidance on the latest research in reading comprehension defines the elements of reading comprehension and why each matters, and identifies ways that teachers in all content areas can develop students' comprehension skills. For speaker notes, see here.
For a list of all our publications, arranged chronologically, click here.