By Public Impact, April 7, 2022
Listen to this post.
What if you could improve student outcomes even in a time of rising teacher shortages?
Many schools and districts report feeling stuck on the hamster wheel of trying to fill all their open positions. This struggle has been worsening for years. According to one report, the share of schools that tried to fill a vacancy but couldn't tripled from 2011 to 2016, from 3.1 percent to 9.4 percent, and the share of schools that reported that it was "very difficult" to fill a vacancy nearly doubled, from 19.7 percent to 36.2 percent. Those vacancies directly harm students' learning.
What could take weary principals out of chronic emergency hiring mode? A chance to rethink staffing to give students excellent instruction using the number of adults a school has.
Schools can redesign staffing structures to give every student a great education, even when a school can't find as many teachers to hire as it wants. This isn't an overnight solution, but research shows it boosts student learning far more than merely adding on to existing structures. This requires a school team to refocus on ensuring instructional excellence through what they can control—the instructional roles that adults in the school play. It may also require a shift away from prioritizing smaller student-teacher ratios, which can keep schools scrambling to fill teacher vacancies with substitutes.
The Opportunity Culture initiative is Public Impact's approach to such redesign, helping schools revisit their staffing structures with vacancies in mind. By thinking differently about instructional roles and available funding, Opportunity Culture models help schools reach more students with great teaching.
The redesign work creates career ladders, collaboration, and support systems for teachers that don't exist in the standard one-teacher-one-classroom model. It addresses immediate student learning needs while offering a new professional trajectory for teachers. Each school creates a design team that includes teachers to make decisions about what roles, staffing, and scheduling will suit its school's needs.
What These Pipeline-Building Roles Look Like
Listen to this sidebar.
The foundational role is that of a multi-classroom leader, or MCL—a teacher with a track record of high-growth student learning who leads a small teaching team for substantially higher pay. The MCL continues to teach students directly in various ways for a portion of each day; leads lesson planning, data analysis, and instructional changes; coaches team teachers, and co-teaches and models for them.
An MCL's team may include team reach teachers, who—critically in a time of teacher shortages—directly teach more students, typically without raising instructional group sizes, for more pay. This avoids filling a small portion of teacher vacancies with substitutes. Master team reach teachers may take on some leadership responsibilities to assist the MCLs of larger teams and reach even more students.
Team reach teachers get support from an instructional paraprofessional called a reach associate, and from pre-existing teaching assistants, if available. Reach associates are a key part of MCL teams. They play a variety of roles, but the core is providing instructional support, with strong MCL guidance and coaching, through tutoring small groups and supporting students on skills practice and other assignments.
And teams may include yearlong, paid teacher residents, embedded in existing reach associate roles. They learn on the job, with heavy guidance and feedback from MCLs, just like new teachers on the team.
Together, the adults on these teams can ensure that more students achieve high-growth learning, and in interviews and surveys, educators report strong satisfaction with the support these roles provide.
From Staffing Design to Results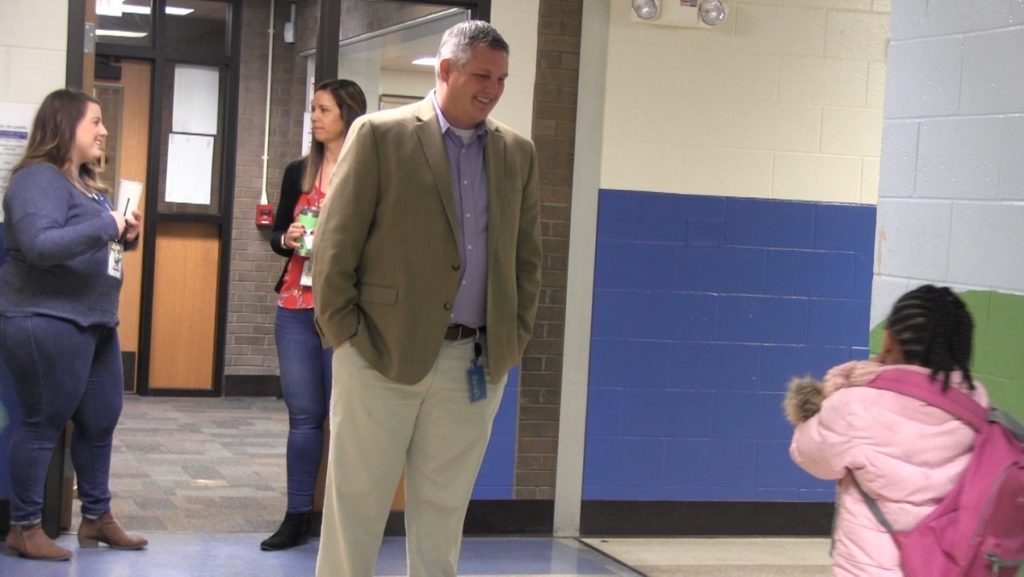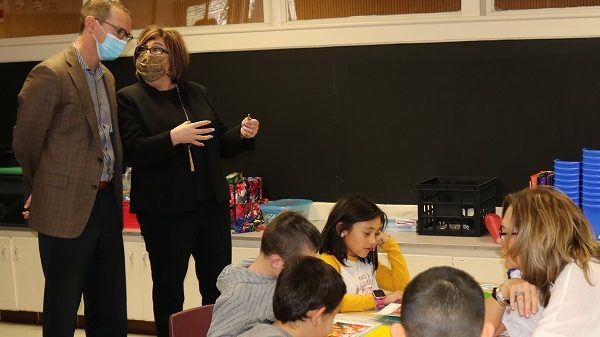 As Principal Jeremy Baugh has written, after his first year leading a struggling Indianapolis school, the school lost 50 percent of its staff. The school began using Opportunity Culture models, and by the third Opportunity Culture year, they retained 97 percent of staff and had 150 applicants per teacher vacancy. Because he could distribute leadership across the school through multi-classroom leaders, his school went from two instructional leaders when he started to 10 or more leaders in the building, whom teachers viewed as approachable, supportive, and deeply connected to their students' needs.
Students felt the effects in both a dramatic reduction in suspensions and academically—"kindergarten went from 32 percent on track at the end of the year to 82 percent. We saw huge growth in third grade," Baugh wrote. "When I arrived in 2015, we were the second-lowest-performing school in the district. In March 2019, we showed the sixth-highest growth in math on our state standardized assessment."
Getting there required a design effort that helps schools rethink roles and schedules to focus as much time as possible on small-group instruction that meets each student's needs, and on collaborative time for teaching teams to plan and analyze data to orchestrate small-group learning experiences. When vacancies have become a fact of life, schools repurpose the funding from open teaching slots to create roles that, working together, reach more students with great teaching.
Principal Susan Hendricks, of Ross Elementary in Odessa, Texas, looks closely at her funding for ways to exchange and repurpose positions. She looks within her school budget for ways to afford the pay supplements required for multi-classroom leaders (MCLs), team reach teachers, and reach associates who support MCL teaching teams. That may mean, for example, shifting funding for a grade-level team from two regular teaching positions to one team reach teacher, supported by two reach associates (or, in some schools, teacher residents) who can assist with small-group instruction to keep instructional group sizes smaller.
"We know that in order to help build capacity with all of our teachers [through MCL support], we have to give up a few things," such as smaller student loads per teacher, Hendricks said.
"However, the reach associates help offset that as well…so that helps with having someone to pull small groups," she said. Picture, she said, a class where a teacher, reach associate, and MCL are all pulling small groups, so a teacher is not on their own teaching all students 100 percent of the time, five days a week.
The school's educator survey results have been positive, showing the power of the support everyone gets through this model, even without reducing class sizes, she says. "Every teacher has support, and it's a daily support, so your culture is going to be strong."
Teacher retention rates have improved dramatically as well; after very high turnover her first year at Ross as she worked to change the culture, she lost just two teachers last year—one to retirement and another to a move.
And midway through the 2021–22 year, the impact on students is evident, she says, in that nearly all grade levels have already met the national standard for end-of-year student growth; in reading, nearly all students are on track to make more than the standard "one year of learning growth."
As Hendricks has seen, studies of outcomes in Opportunity Culture schools show that this sort of design thinking benefits students. Researchers from Texas Tech University report that students served by Opportunity Culture multi-classroom leader teaching teams achieved learning growth in the top quartile teamwide, on average, according to their study of the Ector County Independent School District's first Opportunity Culture year (where Hendricks' school is located).
The positive impact on students and the study size were similar in magnitude to a 2018 study of Opportunity Culture results in three districts from American Institutes for Research and the Brookings Institution. When a school is designed to ensure that students make these learning gains year after year, those who start out behind could catch up and move on to more advanced work.
Effects of Class-Size Reductions
Listen to this sidebar.
Having smaller class sizes feels like common sense—better for kids, better for teachers. And some rigorous research suggests that through third grade, dramatically smaller classes of 13 to 17 students positively affects student learning for any given teacher.
Unfortunately, significantly lowering class sizes removes students from the best teachers' classrooms and necessitates hiring significantly more teachers, meaning schools must dig deep into their applicant pool. This may be why large-scale implementation of class-size reductions has not increased student learning as expected. As Bryan and Emily Ayscue Hassel have written:
"A large-scale reduction requires hiring massively more teachers, dipping deeper and deeper into the applicant pool. It also reduces the number of students who have excellent teachers—the ones who produce more than a year's worth of student growth each year, necessary to close proficiency gaps and help students leap ahead.
Suppose K–5 Elm Street Elementary has 100 kids per grade. If it has class sizes of 25, it needs 24 teachers. To get to class sizes of 17—what it takes to get the benefits cited above—the school needs 36 teachers, or 50 percent more. If the school's district needed to hire 300 teachers per year before, it needs to hire 450 now. So, it gets the 300 teachers it would have hired…and then dips 150 ranks lower into its applicant pool for the rest.
Ouch. Double ouch for hard-to-staff rural and urban schools that could not fill their teaching slots previously. Triple ouch for districts if the mandate isn't fully funded by the state—they must scramble to pay for a reform that won't put an extra dime in any current teacher's pocket. Ouch, ouch, ouch.
In addition, if Elm Street is typical, it probably has about six excellent teachers among the 24. Those six teachers teach 25 students each, reaching 150 children total with terrific instruction. Under the new policy, they teach only 17 students each, for a total of 102."
That's tough anytime, but even more so if schools are facing growing teacher shortages.