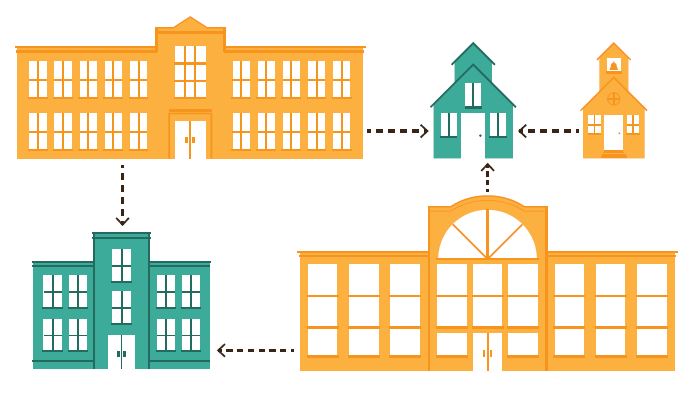 Superintendents and leaders of charter management organizations play a major role in ensuring Opportunity Culture success in their sites. In Opportunity Culture sites with the strongest results, the leader:
communicates early and often how Opportunity Culture implementation helps teachers achieve outstanding results with students—when implemented well.
gives key district staff the authority to lead Opportunity Culture implementation.
monitors progress during both Opportunity Culture design and ongoing implementation using the School Excellence Portal.
makes the tough decisions about course corrections when challenges arise to ensure that every student in an Opportunity Culture school receives excellent teaching—in every subject, every year. The School Excellence Portal's low-cost data tools help superintendents identify the most important changes to achieve results.
Tools & Resources for District Superintendents
School Excellence Portal: Our online portal allows us to provide your district with a virtual planning and communications platform to support essential activities, give rapid, personalized feedback on implementation, ease the collection of data for analysis of outcomes, and provide educators with curated information and resources.
Introduction to an Opportunity Culture: For educators, policymakers, and anyone else interested in dramatic improvements in education, this short slide deck with brief speaker notes provides a useful overview of why students and educators need an Opportunity Culture, how it works, the research supporting it, what states and districts can do to support it, and a list of more resources. s.
Covid Response Resources: In response to the COVID-19 pandemic, we have developed materials to support teachers and students in the transition to at-home teaching and learning, including a slide deck, recommended district policies for remote learning, at-home schedule examples, and stories of educators teaching from home.
Teacher and Staff Selection Toolkit: The four-step action planner and accompanying tools guide district, school, and charter management organization leaders in selecting teachers and staff members for Opportunity Culture roles, which require new behaviors and skills. The planner walks users through each step of selecting candidates, explaining the considerations for each and providing links to relevant tools and resources.
Recruitment Toolkit: The four-step action planner and related tools take districts and schools through the major steps of a successful recruiting effort for Opportunity Culture schools. Opportunity Culture districts should begin recruiting each year ideally in November or December and no later than March, to attract a large pool of excellent candidates and capture their interest before they commit to other jobs.
Multi-School Leadership: Opportunity Culture multi-school leaders (MSLs) are excellent principals with a record of high-growth student learning who lead a small group of two to eight related or closely located schools for more pay, funded within the budgets of their schools. Our tools explain the model and aid districts' design and implementation
District Implementation Review: This rubric assesses the fidelity and strength of a district's policies and actions important to teacher effectiveness and student learning in schools with advanced teaching roles

For more detail about the district design process, please see How We Help Districts and Schools.