By Kristen Duffy, first published by Real Clear Education, September 20, 2016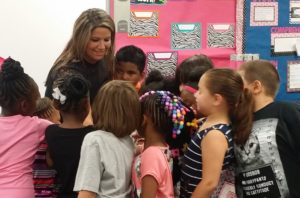 "Come join the exciting new initiative at Meachem Elementary. We are pursuing proven strategies to increase student achievement by increasing adult leadership and the capacity to more effectively reach all students; this will assist in raising our test scores, and provide teachers with more support by their peers, smaller reading-group sizes, classroom management support, and interventions using technology that engage students in their academic journey. Join the Opportunity Culture team and take part in this enriched opportunity! Help lead your school to success!"
Who could say no to this? I wanted in, and signed up without realizing the impact on my future.
Every school using Opportunity Culture models creates a design team to determine how to redesign its teacher roles. Fewer teachers took part in an initial meeting than I expected—they thought it was another "thing" that would come and go. But walking into it was like walking into my destiny. Everyone looked eager. We were thinking so hard you could almost see thought bubbles above our heads.
Nothing like this had been presented to us before. We got to decide what was best for our students. As we vigorously jotted down goals, the list grew: Anything we wanted to change was at our fingertips.
We narrowed it to three objectives for Meachem's first 90 days of school:
1)  Differentiated instruction though small guided reading groups—using multi-classroom leaders, coaches and intervention specialists
2) Blended learning with procedures for online stations—using technology assistants and a coach
3) Classroom management with interventions tiered according to students' needs—using a paraprofessional "reach associate."
To meet our first goal—and its target of a 50 percent increase in student reading scores by day 90—we needed multi-classroom leaders (MCLs), typically described as excellent teachers who continue to teach while leading a team of teachers, modeling, co-teaching, coaching and co-planning with them.
We giggled at first, thinking, "Aren't we all excellent teachers?" But in reality, that caused many of us to step back from even thinking of being an MCL. I couldn't imagine labeling myself, one of Meachem's youngest teachers, that way.
As we created the MCL job description, the responsibilities seemed endless, but we knew it was critical to getting positive results for students through curriculum, instruction and assessments. Under our plans, the MCL would serve as a model teacher and staff developer for a teaching team covering two grades—a total of eight teachers, two academic intervention specialists, two technology teacher assistants, one reach associate, two coaches and 160 students.
MCLs would teach full days, 8:45 a.m. to 3:15 p.m. They would plan with their teams daily for 30 minutes before school, and meet twice weekly for 45 minutes of data analysis while students were with technology assistants or the reach associate.
We also held staff meetings to get input on what students needed to succeed and attended districtwide meetings to hear other schools' Opportunity Culture plans. And now I see that our planning missed a crucial element: helping teachers truly see who among us would make good MCLs. But as it happened, during these staff meetings, the principal showed a video of me demonstrating a guided reading group. After teachers watched this and similar videos of my peers, people began telling me I should apply to be an MCL.
Teachers don't usually get time to model-teach, so it wasn't until my video that either they or I could see me in this job. But we need and want to see great teaching modeled. Once teachers saw that, they fell in love with multi-classroom leadership, saw that I knew what I was doing, and wanted me to support them.
I felt honored, but also had uneasy, "wow, could I really do this?" thoughts. This was a big shift from teaching students to leading veteran teachers. Could I reach the goal of improving student growth by 50 percent? I remember saying, "Yes, we could do that!"
My first MCL year was very stressful; we were under pressure to teach our own classes all day, to show we are "in it" just like team teachers. Without time to go into teachers' classrooms unless someone covered my class, I couldn't do all I wanted, and all an MCL should do. Instead, teachers sometimes came into my room to watch me model a lesson, and I focused hard on leading data analysis in our meetings to plan instruction.
We are fixing that scheduling for the future—but for all the stress, I wouldn't for the world have changed taking on this role. I learned what it actually means to teach, lead and collaborate with others. We can all be "excellent teachers"; we just need the resources to achieve excellence.
For my fellow teachers, I wrote a poem, "The Opportunity for Change":
Opportunity Culture is the resource needed to help our students and staff succeed. Collaboration amongst a common goal was the beginning seed.
In education we are always told what is best for one. You will finally have a voice for all, because our job is never done!
We are all "excellent teachers" who need to be heard. Opportunity Culture gave us our word!
If Opportunity Culture comes to your school one day, embrace it and know that great things are on the way.
I would like to say thank you for all that you do; no matter the challenge, don't ever lose you!