By Sharon Kebschull Barrett, February 28, 2022
Congratulations to KaTrinka Brown, Piedmont-Triad Region Principal of the Year, and Larenda Denien, Southwest Region Principal of the Year! The awards place Brown and Denien in the running for North Carolina Principal of the Year, to be announced in May.
I spoke to both principals recently, and as you'll read in spotlights of each, a common theme in their leadership success quickly emerged: the power of relationships.
KaTrinka Brown
Principal, Jackson Middle School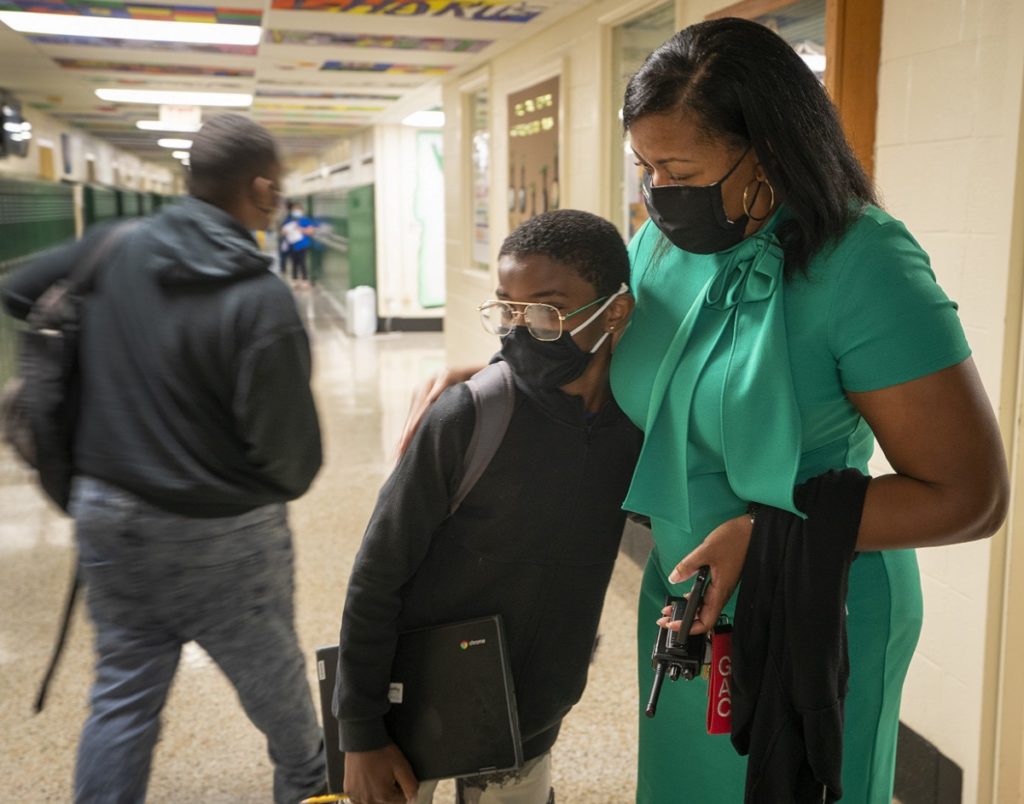 When KaTrinka Brown became principal of Jackson Middle School in Guilford County, North Carolina, she brought someone special with her—her sixth-grade daughter.
Jackson Middle's 436 students are all eligible for free and reduced-price lunch, and Brown and her daughter were coming from a school in a more affluent community.
"Although I was concerned that it was going to be something totally different for her, I also knew that it was important for me to show that I'm serious about the work that I'm doing," she said. "So we both took this journey together, and so, I was able to build the trust and credibility with the staff through that action—with the parents as well."
Building trusting relationships was key to her leadership, Brown said—for which she is being celebrated now as North Carolina's Piedmont-Triad Region principal of the year, putting her in the running with eight others for statewide principal of the year, to be announced in May.
"That was key because our community…a lot of them, unfortunately, have been hurt by the school systems or the schools," Brown said.
So Brown works hard to keep lines of communication open, to the point of giving all families her cellphone number.
"They call on the weekends, they call at night, they call whenever there is something that they are thinking about, or they'll text, and they know that they are always going to get a response because I believe heavily that it's a partnership, that we all work together for the benefit of the kids," she said.
"I know that our kids don't get to select where they go to school because they don't get to control where they live, but we can control how we treat them when they come to our building. [It's about] making sure that people understand that just because they come from a lower socio-economic group doesn't mean that we treat them any 'less-than,' that they are still important, that they still get the same education anyone else does."
When she came to Jackson, Brown worked to put in place as many wraparound supports and services as possible for her students.
"For me, it was critical to understand where they were coming from first, and also to think about what resources would be appropriate to support in filling in some of those areas of deficit," she said. "Whole-child was important, because if there's some food insecurities or housing insecurities that are present, then academics is going to be at the back of their minds, not at the forefront."
Wanting to retain her great teachers and increase their impact, Brown was excited to hear the district's initial planning for Opportunity Culture implementation.
"When we started talking about different approaches to recruiting and retention and all those pieces, Opportunity Culture came to the forefront, and when we started talking about it as a district, I was like, 'I want to be a part of this team,'" she said. "For me, it was a no-brainer."
To fill the initial Opportunity Culture roles, some of the great teachers the school already had became multi-classroom leaders (MCLs) and team reach teachers, known as expanded-impact teachers (EITs), who directly teach more students than typical. When she needed to recruit externally for a math EIT, Brown was thrilled that Opportunity Culture roles and pay supplements meant she had a pool of teachers to choose from who had strong student learning data and wanted to come to Jackson.
"That changed the game for us, because at the end of the day I really wanted the best of what was available for my students," she said.
And those Opportunity Culture MCLs and EITs, she said, "have the best relationships in our building…I can't even begin to think about you being in this building if you cannot build solid relationships with kids. They all do that very well, and they make sure that their kids are successful."
Before using Opportunity Culture roles, the school had celebrated a year in which students exceeded expected learning growth, only to find their results knocked back the following year after a curriculum change. Being able to implement Opportunity Culture roles—in which great teachers lead instructional planning and data analysis and coach teachers on lesson delivery—was key to getting back on track. "It's definitely a great tool to help with our performance, our overall performance."
The school now has three MCLs, who lead math and language arts teams, and three EITs, who teach a whole grade level for math, language arts, or science.
Brown is committed to using her funding and scheduling strategically each year to ensure that the roles are sustainable and help make it possible to reach all students with excellent teaching. She restructured the schedule this year to give EITs time to provide some guidance to other teachers. For example, the school's eighth-grade science EIT, who has some of the highest student learning data in the district and has been asked to lead some district-level professional development, now has time to work with the sixth- and seventh-grade science teachers, who are not on MCL teams, Brown said.
The support from Opportunity Culture educators has helped with teacher retention, student learning, and the school's climate and culture, she said.
With that, Brown feels she's leaving Jackson in a good place after seven years there—because, the night before this interview, the district announced she would become a high school principal.
"It is bittersweet. I've been here for seven years, so I love my community," she reflected.
"I would want people to know that for me, the [principal of the year] announcement was a surprise," she said. "It is an honor but, at the end of the day, we don't do the work for the accolades; we do the work because of our children. And so, for me, just seeing my kids succeed, that's rewarding enough in itself, and that's the part that keeps me going every day—being able to say that I know that at least one child is better because of the work that I'm doing."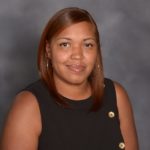 Public Impact's Sharon Kebschull Barrett asked Principal KaTrinka Brown to share more about her commitment to give her cellphone number to all her school's families and the impact it has on her.
Larenda Denien
Principal, Idlewild Elementary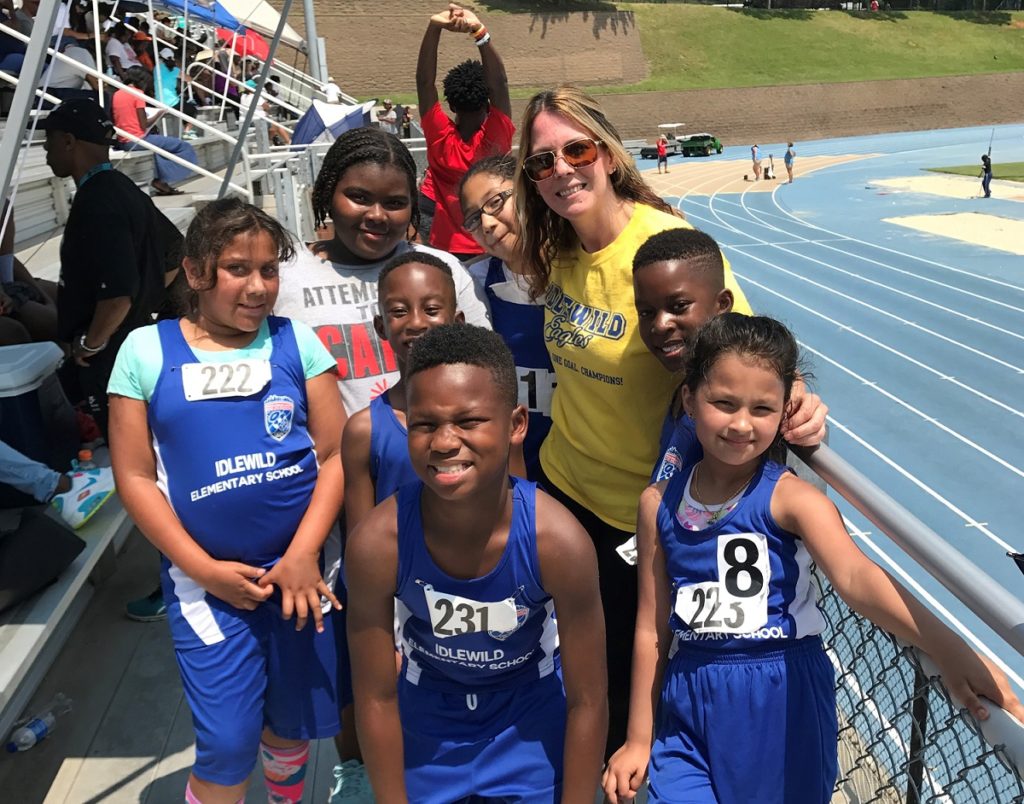 Drawn to work in high-need schools, Principal Larenda Denien has spent the past eight years trying to close gaps for her students at Idlewild Elementary in Charlotte-Mecklenburg Schools (CMS).
Idlewild serves a high-poverty population, with high rates of student turnover, and of its 935 students, 605 come from homes in which English is not the first language, with more than 40 languages spoken (many come from refugee communities). In some ways, "it's a fragile school," Denien says.
But with Denien at the helm, and a strong distributed leadership system through its many Opportunity Culture educators, Idlewild can now boast of having North Carolina's 2021–22 Southwest Region principal of the year—and possibly, come May, the principal of the year for the whole state.
What's her formula for success?
"For me the relationship is number one," she said. "I feel like the relationships you have with your teachers and staff builds a culture of your school; the relationships you have with your students keeps them coming back for more every day. The relationships you have with your families empowers them to be a part of everything that you do and supporting their child at home so that they can be successful. If you've got the relationship piece down, everything else will fall into place."
She adds to those strong relationships the need to think strategically, ensure that Idlewild's systems and processes are consistent, base everything on the best interests of students, and ensure that teachers get support.
Having that formula established meant everything during Covid, she said.
"The families trusted us, and they knew that what we were going to do, even if their children were not here at school learning, was going to be what was best for them. They knew that our staff was committed to the success of kids, whether it was the socio-emotional piece, the academic piece, or just the relationship and connection piece. Really, it was the key to everything."
She asked staff and families to share with her everyday things they were doing at home to post on the school's online platforms to replace a bit of the camaraderie of the school's usual family-focused events.
"The number one thing was making sure everybody felt like they were still a part of Idlewild," with staff doing home visits, online evening family sessions, and Zoom story time every weekday evening—which continued after remote learning ended.
Denien is a strong proponent of keeping kids physically active throughout the day—indeed, she interrupted the interview to make an announcement on February 22 at 2:22 p.m. for everyone to join in the Cupid Shuffle line dance—and she kept that emphasis going during remote learning, asking families to share pictures of their children being active, and designating Wednesdays as "Move-It Wednesdays."
As an early adopter of Opportunity Culture roles, she notes the power of the distributed leadership of two multi-classroom leaders (MCLs) and 12 team reach teachers, known as expanded-impact teachers, who directly teach more students than typical with MCL support.
"No leader in any organization is successful without great people. When Opportunity Culture became a part of CMS and I had the opportunity to apply to initiate Opportunity Culture at Idlewild, I was 100 percent on board with that, because teaching is a lonely field, I think. It's one of the only professions where, you know, we don't always make time to see each other in action, to visit each other's classes, and it's also a profession where teachers are not necessarily paid a salary that is comparable to the amount of work that they do, the time that they've put into their efforts, the heart and compassion that goes into it. And so, when it became an opportunity for us to be able to not only recognize and highlight effective teachers but offer them a supplemental increase in their salary, I was all about that."
Denien has embraced the work of reallocating school funding to have as many Opportunity Culture educators as possible—"the epitome of what great teaching looks like."
They are "at the table making decisions about what we do next and what direction we go in, and analyzing our performance each year and trying to make decisions about what the following year might look like, or what professional learning we might offer," she said. "I think that's probably been my most favorite part of this."
Having this supportive structure in place, Denien said, has led to very low staff turnover and a strong school culture. And the power of so many expanded-impact teachers and MCLs shows in the school's student growth results, especially in reading—which she takes special pride in, given how many language-minority and transient students the school serves.
"Each year we are climbing up and climbing up and climbing up… typically, when I look at the [elementary] schools in our district, we're usually in the top three or five schools for the amount of growth that we are making in a year with our students," she said. "If we're exceeding growth with them every year, eventually, they are going to catch up and be at grade level."
None of this was easy, but consistently working to make the school even better has been worth it, Denien said. "I know that if, you know, by any chance I were to leave Idlewild, I believe that the amount of time that I've spent here, the culture that we've established and maintained for these past seven-plus, almost eight years, it's going to sustain beyond me. I feel like being here all of this time has allowed me the opportunity to leave a legacy when I do leave Idlewild—when I retire is what I should say—that is going to be unmatched."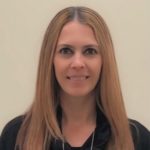 Public Impact's Sharon Kebschull Barrett asked Principal Larenda Denien to share how she took care of herself during Covid to stay as upbeat and positive as she does.