Schools began using Opportunity Culture models in:
2016-17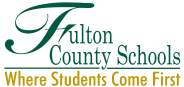 Details:
Georgia's Fulton County Schools district, which sandwiches the separate district for the city of Atlanta, began implementing Opportunity Culture in its first schools, Benjamin E. Banneker High School and Woodland Middle School, in 2016–17. Both schools are part of Fulton County's achievement zone, created in 2015 to focus on the traditionally struggling high school and its feeder schools with the goal of rapidly improving academic outcomes for its students. Fulton County Schools includes the cities of Alpharetta, Roswell, and Sandy Springs on Atlanta's north side, and Chattahoochee Hills, College Park, and Union City to the south.
Fulton County Schools Demographics
When Fulton County Schools began implementing Opportunity Culture in 2016, the district had 93 schools serving 95,000 students. Of those students, 43 percent were black, 29 percent were white, 15 percent were Hispanic, 10 percent were Asian, and 45 percent were eligible for free or reduced lunch.
Learn More: