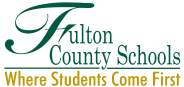 Georgia's Fulton County Schools district, which sandwiches the separate district for the city of Atlanta and serves more than 95,000 students, began implementing Opportunity Culture in its first schools, Benjamin E. Banneker High School and Woodland Middle School, in 2016–17. Both schools are part of Fulton County's achievement zone, created in 2015 to focus on the traditionally struggling high school and its feeder schools. The zone aims to rapidly improve academic outcomes for its students.
Fulton County Schools includes the cities of Alpharetta, Roswell, and Sandy Springs on Atlanta's north side, and Chattahoochee Hills, College Park, and Union City to the south.
Public Impact, which designed the Opportunity Culture model prototypes, is assisting Fulton County in planning its school designs and implementation, supported by a grant from the Dobbs Foundation, based in Atlanta. The grant supports only the transition work; higher teacher pay will be sustainably funded within existing school budgets.
For more information, see our press release here.