By Margaret High and Sharon Kebschull Barrett, February 11, 2020
Whenever the Public Impact team interviews Opportunity Culture educators, one word comes up again and again: support. With multi-classroom leaders (MCLs) at the core, support flows up and down—up from MCLs serving as an instructional leadership team for their principals, down from MCLs to their teaching teams, and even sideways, with MCLs forming a supportive team for one another.
That schoolwide support becomes even more powerful when backed up by strong, vocal support from a superintendent and central office.
Superintendent leadership in North Carolina's Vance County Schools and Edgecombe County Public Schools, and in Spring Branch Independent School District in Houston, Texas, helped gain educator buy-in and successful implementation of Opportunity Culture.
These superintendents highlight some critical components of support from the top: communicating with the district's educators about the power of an Opportunity Culture and a vision for student success; supporting human resources offices in helping schools hire highly motivated educators; and strongly encouraging and supporting principals and teachers in innovating to improve instruction.
Vance, an hour north of Raleigh, and Edgecombe, an hour northeast of Raleigh, both serve rural populations in which about 28 percent of children in public school live below the poverty line, according to the National Center for Education Statistics (Vance; Edgecombe). Spring Branch ISD's student population includes 30 percent English language learners, according to NCES. All three school districts began using Opportunity Culture in some of their schools in 2016–17.
Anthony Jackson, Vance superintendent and North Carolina's 2020 Superintendent of the Year, knew support coming from the top would be crucial. Jackson emphasized that "innovation doesn't need permission."
Strong communication with the district's educators has been key, Jackson said.
"You have to truly do the work of making sure people understand," he said. "It's important to share the full story and have them understand that we really don't see this as an initiative; we see this as a strategic opportunity to change teaching and learning in our school system."
Now, opportunities abound for everyone, said Willonda Gillespie-Cates, an expanded-impact teacher at Pinkston Street Elementary. "The possibilities here in Vance County are endless."
Jackson knew he had to go beyond slogans and provide real support when educators try new approaches.
"We know he's going to support us," said Carnetta Thomas, principal of L.B. Yancey Elementary School. "When we step out there, he's not going to just leave us out there to dry. He's going to help—he's going to do whatever he needs to do to make sure we're supported."
Support from Jackson meant giving principals and MCLs more flexibility to research and try innovative education solutions, and it meant helping educators feel comfortable trying new things. This involved additional training, strong communication, the creation of a culture of research-based risk-taking, and staying positive through trial and error.
Edgecombe County has seen learning growth and encouraging results in teacher recruitment, with strong support from Superintendent Valerie Bridges and her predecessor, John Farrelly, who brought Opportunity Culture to the district. For example, North Edgecombe High School has been a standout, going from being traditionally low-performing to three consecutive years of exceeding expected student growth.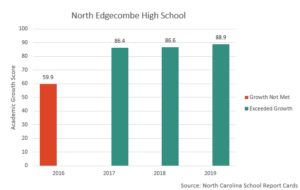 Like Jackson, Bridges emphasizes the ability to take calculated risks, trusting her principals and Opportunity Culture educators in classrooms. That trust comes in part, she notes, from the district's dedication to the deliberate, rigorous hiring process an Opportunity Culture advocates, using behavioral event interviews.
"We trust the process," Bridges said. "Looking at [the schools'] data, we're deciding what roles do you need, what's that going to look like…how are we going to sustain it, what we can give up to make this happen? Those are some hard conversations, but again, do we want to get better?"
Making Opportunity Culture a district-wide initiative was important for successful implementation, Bridges said. The district first used Opportunity Culture models in its hardest-to-staff schools. Showing success in the most challenged schools allowed other educators to see the possibilities and become excited for their own school to start.
With all the changes in school structure and new responsibilities for MCLs that an Opportunity Culture brings, Bridges and Jackson said school and district leaders must be ready to provide extra support.
"Again, trust the process. Look at your data, unpack, and check in with your teachers, because you could have an MCL with a really heavy load, so support them and make sure we're all having this conversation and talking through it," Bridges said.
As Opportunity Culture spreads, superintendents can also turn to one another for support, as Bridges and Jackson have offered each other.
"It was helpful in some of those conversations, feeling like you weren't in it by yourself," Bridges said. "I like Dr. Jackson, and I think he's smart, so when I knew he was doing [Opportunity Culture] too, I thought OK, yeah, this is good stuff."
For Jennifer Blaine, as for Bridges, Opportunity Culture was a given when she was named superintendent of Spring Branch in spring 2019. Blaine had served as associate superintendent for talent and operations under Superintendent Scott Muri, overseeing the department responsible for Opportunity Culture implementation. Muri, who moved to Ector County ISD in Odessa, Texas, and has introduced Opportunity Culture there, and Blaine both supported Opportunity Culture implementation, helping to ensure its successful continuation.
"We were very thoughtful about how we did this," Blaine said. "It's one of those things that is such a positive, different way to think about staffing and about supporting teachers and growing teachers and providing opportunity."
Superintendents must "create the right conditions for this type of innovation to flourish," Muri said. "This would include removing barriers, planting a vision, supporting good thinking, and encouraging the process."
In Spring Branch, Muri introduced the Opportunity Culture concept to the talent team that Blaine led.
"Her team bought into it and ran with it, creating a great environment," Muri said. "If I needed to communicate something or remove a barrier, it was: Create the conditions with a good leader in place, empower them and get out of the way."
Because the concept of Opportunity Culture challenges the status quo, Muri said, superintendents need to help people think differently about the profession.
"People think they know what a teacher is, and Opportunity Culture creates a different picture of the word 'teacher,' and the role, and that can be a challenge to communicate that to an audience" that isn't part of the design process, he said. "Opportunity Culture allows us to expand the very simple definition of 'teacher.' "
At Spring Woods High School, having a clear vision from district leadership, after designing school implementation from the bottom up, made the entire campus feel more supported, Principal Jennifer Collier said.
"The culture on the campus as a whole is just completely different—it's a culture where students feel more supported because teachers are happier, and teachers are happier because they feel more supported on instruction," Collier said.
"We've absolutely seen teacher retention, not only in the system as a whole, but those folks that go into those Opportunity Culture roles," Blaine said. "And likewise, teachers who are coming in brand new are feeling like they have more support on the campus."
Along with innovation, flexibility, and strong communication, these districts and their leaders share another trait: an all-in-this-together attitude.
"The benefits for us are exponential," Bridges said. "It doesn't just happen in the classrooms that have the extra support—it happens in the schools. It changes the environment. It changes the way it feels."
Jackson agrees. "I hear our teachers talking. They're more positive about work, they are extremely excited to be in Vance County, they are extremely excited about the support they receive, and it becomes contagious for us," he said. "And our students are the benefactors of all of this work."