By Margaret High, November 4, 2019
Public Impact held its Opportunity Culture Fellows Convening in September; this series of blog posts highlights some of the convening topics and sessions.
Leading change and developing leaders: Opportunity Culture principals must know how to do this for student and teacher success, and Opportunity Culture Fellows are hungry for tips from their colleagues who do it well. At the Opportunity Culture Fellows Convening, a panel of principals highlighted strong hiring and communications as two keys among many to success.
Three current principals—Jeremy Baugh, an Indianapolis elementary principal; Donnell Cannon, an Edgecombe County, North Carolina, high school principal; Elizabeth Meyers, a Chicago elementary principal—and Sarah Reeves, a former Charlotte-Mecklenburg elementary principal who is now director of elementary education and Title I for Cabarrus County in North Carolina, agreed that Opportunity Culture allowed them to transform their schools.
One panelist, who "inherited" Opportunity Culture upon moving to a school where the entire design team had left, saw that the staff did not buy in to Opportunity Culture in their first year because they didn't understand the "why" behind using it—a key element in leading change. To address this, the principal focused on transparency in the selection process, clear job descriptions based on the school's needs, and professional development for multi-classroom leaders (MCLs).
"Everyone was part of the design team in some way, shape, or form, giving their input"—helping to turn attitudes around. With an "all-in" staff the second year, student learning growth followed.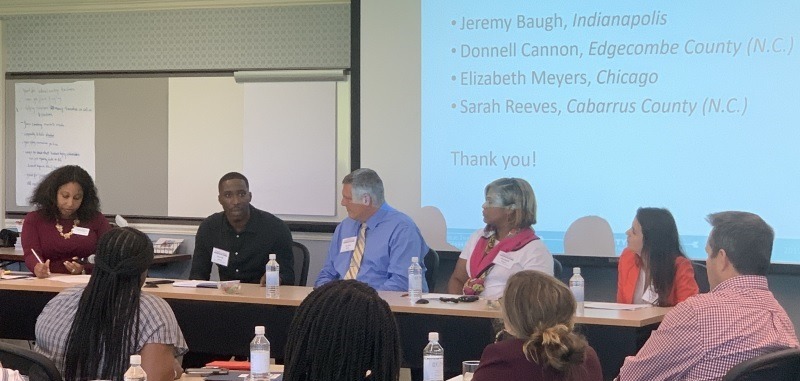 The principals noted that leading major changes can result in some teachers who don't buy in leaving the school. While difficult, the principals took that opportunity to get the right people in the building, through in-depth, high-expectations hiring. The hiring process itself—based on behavioral event interviews—also provides a chance for job-embedded professional development on the school's high standards, one principal noted.
From the school design and staff selection phases through the entire school year, principals must communicate—even overcommunicate—the strong vision they and the design team set and the work that follows, panelists said.
"I'm learning to be more explicit in what I'm looking for and what I want. I need to plan better on paper and not just in my brain," a panelist said. "I need people to see my vision and know where we're going, and I have to be able to articulate that."
Weekly meetings with the instructional team of leaders and individual meetings with MCLs are crucial to maintaining strong communications and reinforcing their Opportunity Culture vision. One principal also has a stand-up meeting every morning to communicate expectations and plans for the day. Another cited intensive alignment meetings as a key element to inculcate the school's values into every detail—from language used down to school decorations.
The panelists touched on other significant ways they develop their school's leaders, including:
Relying on the weekly meetings with each MCL to develop their leadership, such as role-playing crucial conversations, outlining accountability measures for teacher teams, and providing guidance on prioritizing goals.
Using MCLs to provide support schoolwide, for all grade levels and departments—without overworking them and by creating a team of leaders that shoulders the load together.
Clearly defining each MCL's role—especially important if MCLs specialize by subject, not grade, so that a teacher may answer to more than one MCL and get mixed messages.
Emphasizing a growth mindset within the entire school.
Remembering to take the time to continue to develop their own leadership.
The change process doesn't end, principals noted, after the first design year: With each year, successful principals lead the school in tweaking how they use Opportunity Culture roles to meet the current needs of students and teachers.
We thank all the panelists for sharing their experiences at the convening.