22,000+ students reached by Opportunity Culture teachers, more than 800 teachers in advanced or team roles, $2 million in higher pay in one year alone, and more high growth and less low growth than other schools: These are just a few results from the schools in districts launching an Opportunity Culture. Public Impact's expanded, interactive dashboard on OpportunityCulture.org shows progress in the Opportunity Culture initiative.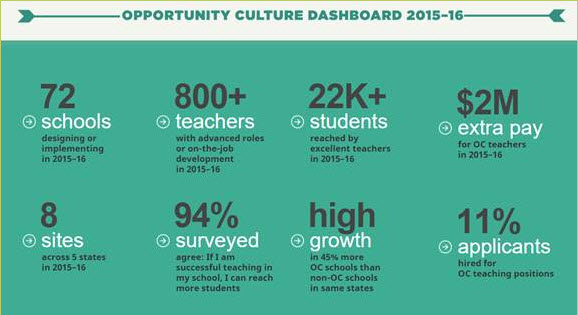 Opportunity Culture (OC) now includes 72 schools, either implementing in 2015–16 (51 schools) or designing their OC plans for fall 2016–17 (21). The initiative launched with 7 schools in 2013–14. More sites and schools are joining.
In the 35 OC schools implementing in 2014–15, we've already seen that 45% more make high growth and 46% fewer make low growth than other schools in the same states, even though most OC schools are implementing their new models gradually over two or three years.
Other key stats, from 2015–16:
Teachers—More than 800 educators are participating this year: 185 teachers are in advanced roles, and more than 615 teachers are receiving on-the-job development on teacher-led teams.
Students—22,000+ students are being reached by one or more Opportunity Culture teachers in this year alone.
Pay—Approximately $2 million of regular school budgets were reallocated to pay teachers more this year, with a top supplement of $23,000 and an average supplement of $11,000 for advanced teacher and teacher-leader roles.
Teacher Recruitment—Just 11% of applicants, on average, were hired for OC teacher roles this year, allowing schools to be highly selective. Syracuse City Schools in New York hired just 6% of its applicants.
The OC Dashboard has more details, including teacher responses to anonymous surveys in 2014–15.
"Teachers and principals are making these results happen, in many cases with students who face big obstacles," said Bryan C. Hassel, Public Impact's co-director. "Our job is to help educators grow this, learn what works best, and share lessons and tools that help everyone succeed."
In an Opportunity Culture, new models extend the reach of excellent teachers and their teams to more students, for more pay, within budget. Schools provide additional school-day time for planning and collaboration, often with teacher-leaders leading teams and providing frequent, on-the-job development. Teachers are accountable for the learning of all students they serve and any colleagues they lead.
A team of teachers and administrators at each school decides how to redo schedules and reallocate money to fund pay supplements permanently, in contrast to temporarily grant-funded programs.
An Opportunity Culture changes teacher roles and school designs, using:
The Opportunity Culture dashboard was made possible by the Bill & Melinda Gates Foundation.