By Sharon Kebschull Barrett, May 19, 2022
Opportunity Culture planning and implementation success involves a host of factors, such as strong initial school designs and rigorous selection, accountability, and monitoring processes, but over and over, district leaders repeat two themes that can't be ignored: the importance of building relationships and maintaining fidelity to the model.
Those themes came up again in April, when two Texas Opportunity Culture districts hosted education leaders interested in using Opportunity Culture designs and teacher residencies in their schools—the first in-person site visit since pre-Covid days. The daylong visit to Midland and Ector County Independent School Districts (ISDs) included an overview of Opportunity Culture implementation, visits to multiple schools to see and hear about the educator roles in action, and a panel discussion with the districts' Opportunity Culture leaders.
The panel and Q&A included Chris Hightower, the Opportunity Culture director in Midland, and the team of Ashley Osborne, the Ector County ISD executive director for talent development; Jessie Garcia, director of talent development; and Angela Romano, talent development coordinator, who share the work of overseeing Opportunity Culture implementation in Ector County.
The districts were both deep into planning for 2022–23 implementation when the directors spoke. In Midland, six schools were designing their Opportunity Culture plans, while the 16 schools already using Opportunity Culture plans were in the annual redesign process.
"Working with all of them right now is really the big piece of the work that we are doing, to make sure that they have plans that are sustainable for next school year," Hightower said. "At the same time, we're also interviewing for MCL positions."
Both districts create candidate pools of screened, highly qualified applicants for Opportunity Culture roles, he explained to the visitors. Once a school's Opportunity Culture plan receives district approval, principals can begin interviewing from the pool.
For Osborne and Garcia, talent development work includes a focus on the district's staffing pipeline—where teacher residencies play an important role—and on retaining educators and guiding them to excellence through strong professional development, especially the personalized, job-embedded professional learning that Opportunity Culture structures provide.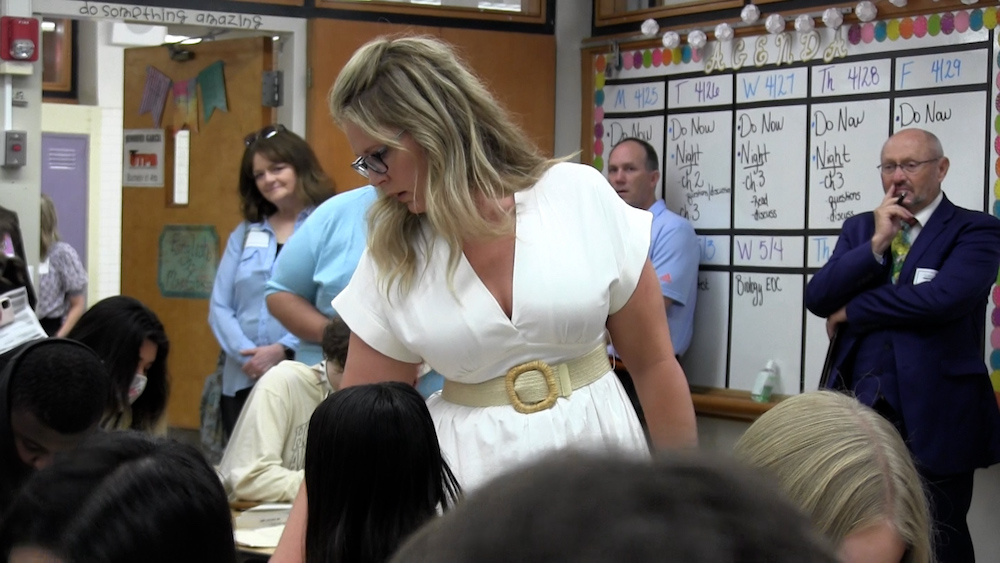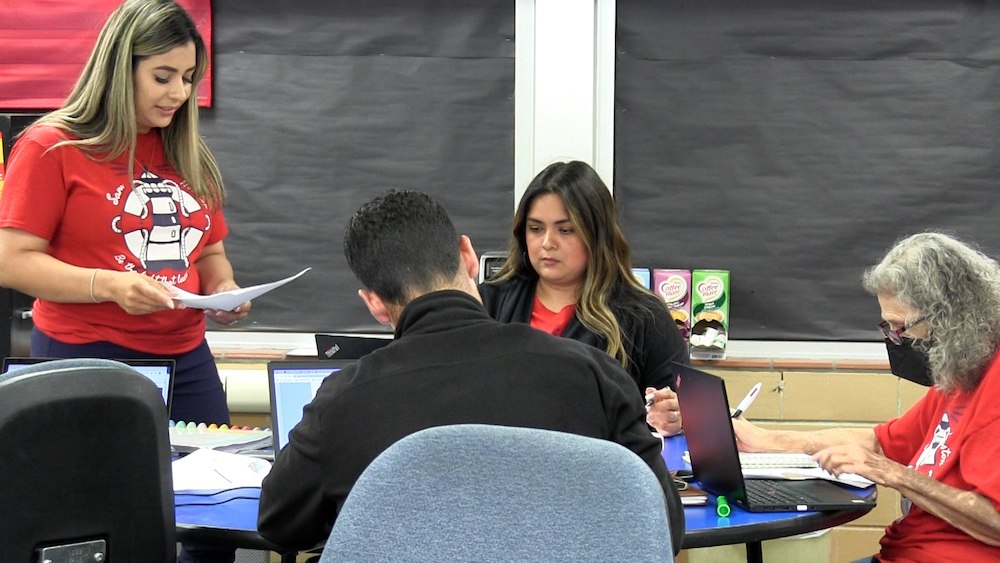 Opportunity Culture designs, with new roles and systems, make major changes in schools—and that starts with relationship-building between district-level and school-level leaders, the panelists said, to bring campus staff on board.
"I think that the biggest piece of buy-in, at least from my perspective, at the campus level is the personal relationship that you build with principals," Hightower said. "Making sure that you take care of the things that they need for development at their campus, then also, being available to help out with any incidents or things that are going on with MCLs as well—so, really getting out on those campuses to see what's going on."
Building relationships quickly when turnover happens—at all levels, from superintendent to principal to teacher—to maintain strong Opportunity Culture implementation is also crucial, Hightower said.
Midland Superintendent Angelica Ramsey noted in an earlier presentation that she came to the district this year, when Opportunity Culture implementation was well underway—and Hightower quickly met with her to share the concepts.
"Any time there's a leadership change…the thought is that we're going to bring in everything new and throw everything out. And so, I'm sure he was a little nervous, and he came through, and I was like, 'This is amazing! This is exactly what we need to be doing more of,' " Ramsey said. "It just was a perfect fit that I think has just gotten better…what's really important for us is it builds capacity across the system."
Garcia noted that Ector County began with a strong core group of school leaders ready to take on Opportunity Culture planning, so the first focus was on developing them. But, she said, on some campuses, the district had to give people "time to develop in those roles and see the fruits of their labor. I think, when they see the success of Opportunity Culture, when they understand that coaching is a shift in mindset, and they understand that everyone deserves coaching, not just people who are struggling, then buy-in comes more naturally."
That mindset shift encompasses all roles in the district, where everyone has a coach.
"We are a learning organization, and that's from top down, and everyone deserves a coach, period," Osborne said. "So, I have a coach, our superintendent has a coach…everyone, everyone has a coach and so, no matter where you believe you are in terms of your career and your skill set, everyone deserves coaching—so those MCLs add value to everyone on your team, not just those that we would say are perhaps struggling."
The panelists also spoke about the power of their districts' paid, yearlong teacher residencies on MCL teams, which bolster their teacher pipelines, support student success, and strengthen their relationship with the local university. The districts work closely with the University of Texas Permian Basin (UTPB) to place residents in schools, and guide and support residents and their MCLs throughout the residency year.
"One of the great things that has come out of our partnership with UTPB is the connection between what it means to be a student at UTPB—learning about what it is to be a teacher—and then, actually, the implementation of that, so, from theory to actual implementation," Osborne said. "They want to produce graduates that fill our needs and that are in line with our campuses from day one. So, it's been really nice to see that just connection between what they learn at the campus at UTPB and how we do business in the ISD…it's been really nice to be able to provide that seamless transition from student to first-year teacher, and, most of our principals, if not all, will tell you that their teacher residents, when they begin their first year of teaching, do not appear like first-year teachers. And in some cases, they don't even appear like second-year teachers, because they have worked alongside that MCL for an entire year and so, they really have been able to sort of fast-track their learning into what it is to be a teacher."
Hightower agreed: "The whole idea of a yearlong residency versus a semester of student teaching—it changed the game on that, it's huge. … we are setting these people up for success. And we really want to make sure they stay in the profession, and I think this gives them a wonderful place to start."
In September 2021, Texas Tech University researchers reported that Ector County ISD students served by Opportunity Culture multi-classroom leader teaching teams achieved learning growth in the top quartile teamwide, on average, according to their study of the district's first Opportunity Culture year.
The district asked the researchers to conduct an independent review of its first eight Opportunity Culture schools, which began using Opportunity Culture roles in 2020–21 with 27 multi-classroom leaders. In those first schools, 72% of students—7,121 out of 9,928 students at the schools—were reached by an Opportunity Culture team. In 2021–22, the district has 17 Opportunity Culture schools and 59 multi-classroom leaders.
Hightower noted that Midland ISD has requested similar research this year.
"If you build systems, your entire school district will flourish," Ramsey said. "That's where we're at. We are not right now—no one in the state of Texas would say 'best school district ever!' right, because there are test scores. But we know we have the hope to get there, and we have more—we have the skill and the will. And so for us, it's about equity across the board, about doing better by our black, brown, and poor students, and it's about being better to our teachers, so that they can be the best that they can be in the classroom."
In a recorded message to site visit participants, Ector County Superintendent Scott Muri said that his biggest piece of advice to districts considering Opportunity Culture implementation was on fidelity.
"We must stay true to the model. We must ensure that what's happening in the classroom, what's happening on grade-level teams, and within the school environment, as well as within the district, that we maintain fidelity to the models that were created—uniquely created!—for each and every school. That continues to be our challenge and our opportunity as an organization," Muri said. "We are seeing success with our students, and the reason for that success, beyond just the talented individuals that we have today, is our system's focus on implementing Opportunity Culture with fidelity, throughout every school in ECISD."