Funding for Teacher-Led Professional Learning—click to download a PDF of this page.
Despite significant spending on other forms of professional development, funding for on-the-job leadership and learning remains rare in education. An Opportunity Culture addresses this by making such leadership and learning a fundamental part of its job models—included, for example, in the pay for multi-classroom leaders.
In an era of increased accountability for student results, improving teachers' daily instructional and classroom management practice is critical to success. In other sectors, organizational leaders work with and through a leadership team that helps employees at all levels continue to improve and adopt new behaviors and actions when goals change. An Opportunity Culture creates the cadre of teacher-leaders with the authority, training, support, and higher pay to lead change at the classroom level.
Many districts and schools fail to adequately track how much they invest in professional learning in general, much less whether those investments lead to improved instructional practice and student learning. This is in part because of the complexity of current funding streams, and because schools and districts struggle to determine what counts as a professional learning cost. Should teacher evaluation, for example, be included? What about teacher substitute time for professional learning days?
Therefore, schools and districts that want to invest in teacher-led professional learning need to determine what their goals are, then clarify what they are spending and whether that can and should be reallocated to better support these professional learning goals. One clear consideration is matching the nature of the funding source with the goal. A short-term grant should not be used to fund an intended long-term salary increase for leading professional learning on the job, for example, if a sustainable, long-term source is available. In an Opportunity Culture, short-term, transition funding may be needed to train multi-classroom leaders in their new roles, so they can take on the long-term work of leading on-the-job professional learning for their teams.
The following chart offers an overview of funding sources for teacher-led professional learning, as well as a description of some broad and specific cost categories. Districts and schools will almost certainly need to tap several funding sources to design, pilot, implement, and sustain a well-developed teacher-led professional learning initiative.
Districts and schools that want to fully and sustainably fund teacher-led professional learning can use this chart as a guide to considering how different funding sources might be used to support a range of professional learning activities.

Matching Teacher-Led Professional Learning Costs With Sustainable Funding Sources*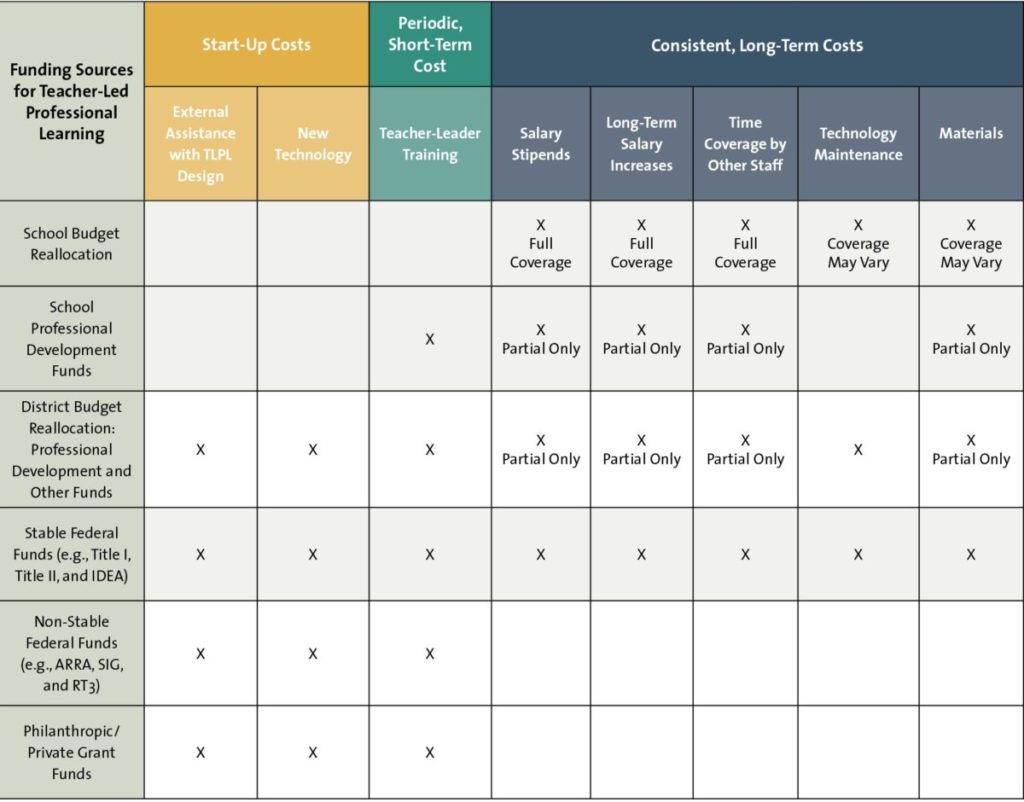 *There may be exceptions. For example, some wealthier schools may be able to fund a portion of start-up costs.
See also: