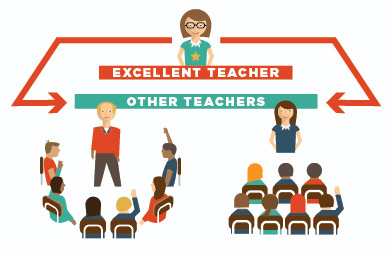 See Multi-Classroom Leader Training Sessions for a free kit of training and development sessions for Multi-Classroom Leaders.
Excellent teachers with leadership competencies lead teams of other teachers to meet the leaders' standards of excellence. Teachers, including the teacher-leader, play instructional roles assigned by the leader and use the leader's methods and tools. The teacher-leader chooses, evaluates, and develops team members, establishing each person's roles and goals at least annually. The leader facilitates team collaboration and planning. (S)he, with the principal, dismisses team members when necessary. The leader earns more than the others—funded by the reduction of non-classroom specialists, lower pay for others with narrower instructional roles and fewer work hours, and in some cases a reduction of team size. The leader is accountable for team success and all students' learning. Reach Effect: approximately 100%–400% more students reached by excellent teachers in charge; more with larger spans.
Examples of schools, school networks, and programs extending excellent teachers' reach using multi-classroom leadership include Ingenuity Prep, and City Charter High School. In a variation, the Teach Plus T3 Initiative places large teams of top teachers in turnaround schools (taking 25 percent of the teaching slots), where they develop peers in collaborative teams and earn higher pay.
See our case studies of this or similar models in action:
Pioneering Multi-Classroom Leaders—Four pioneering multi-classroom leaders at high-need schools in Charlotte, Nashville, and Syracuse discuss in these vignettes and accompanying video their views of their roles, actions they took to lead their teams, mistakes they made, and how they recovered.
Ranson IB Middle School Launches an Opportunity Culture looks at the early days of Ranson's implementation of two Opportunity Culture job models—Multi-Classroom Leadership and Time-Technology Swaps—and how an Opportunity Culture improved its recruitment and retention of great teachers.
Ashley Park PreK-8 Launches Multi-Classroom Leadership and Blended Learning addresses why Ashley Park chose to implement an Opportunity Culture using Multi-Classroom Leadership and blended learning through a Time-Technology Swap, and how the early days of implementation helped the school retain its best teachers.
Metropolitan Nashville's Innovation Zone: High-Need Schools Help Teacher-Leaders with Paid, Yearlong Student Teachers looks at how three Nashville Opportunity Culture schools added a twist to their use of Multi-Classroom Leadership, with student teaching positions that place "aspiring teachers" in one school, usually serving the same class for a year, and pay them more than $15,000 with benefits
Charlotte, N.C.'s Project L.I.F.T.: New Teaching Roles Create Culture of Excellence in High-Need Schools, a study detailing the steps four schools took and the challenges they faced as they prepared to kick off their Opportunity Culture models at the beginning of the 2013–14 school year
Charlotte, N.C.'s Project L.I.F.T.: One Teacher's View of Becoming a Paid Teacher-Leader, a Q&A with an excellent teacher who served on one school's design team, now set to take on one of the redesigned jobs as a multi-classroom leader
Leading Educators: Empowering Teacher-Leaders to Extend Their Reach by Leading Teams, a profile of one teacher's efforts to extend her reach
More detail on this model:
 Multi-Classroom Leadership School Model
 NEW! In-Person Rotation + Multi-Classroom Leadership (Middle & High School) Model
 Financial Planning for Multi-Classroom Leadership: Describes how teacher-leaders in this school model may earn more, sustainably, with calculations of savings and costs showing how schools could increase teacher-leader pay between 67% and 134%, without increasing class sizes and within existing budgets. See more about this model here.
 Multi-Classroom Leader Team Staffing and Pay Example: Explains potential pay increases for a multi-classroom leader and team teachers on multi-classroom leader teams.
View table with links to all school models