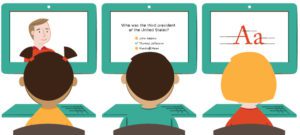 "Digital instruction" ("Boundless") is delivered via technology, such as video and smart software that offers students a personalized sequence of learning experiences, and does not include live interaction with a teacher. Digital instruction must be combined with an excellent in-person or remotely located teacher, who is personally accountable for students' learning outcomes. It is "boundless" because, once recorded, great digital instruction can help a limitless number of students located anywhere.
Digital instruction is essential to Time-Technology Swap school models that free excellent teachers' time to reach more students. It may be imported from outside the school or developed internally, such as by video recordings of instructional units by the best instructors within each subject or sub-subject in a school, district, or school network. But what makes great digital fare?
The most useful digital instruction has the following characteristics:
Alignment: Aligns units of instruction with the school's curriculum, below and above grade-level standards;
Advancement: Allows advancement at a personalized pace, with repetition until a topic is mastered;
Assessment: Includes frequent assessment of mastery and reports of individual and group learning trends that teachers can use to monitor student learning;
Advice: Recommends next instructional steps for each student and groups of students, including in-person and digital follow-up;
Accessibility: Accessible to all students, who need software, hardware, and Internet connections;
Application: Includes analytical, creative, and conceptual thinking units to apply knowledge and skills.
Schools can include a seventh "A," accountability, by monitoring digital instruction effectiveness with different students and making changes when needed. Excellent teachers have always done this—trying alternative resources when a standard one is not working. Digital instruction should be no exception.
The greater the digital time, the greater the number of students reached and/or the smaller class or group size can be. However, students' ages, digital quality, teachers' student load, administrative feasibility, technology, and facilities may impose various limits in different schools and with different students.
When great teachers control the use of digital learning, they can ensure that it is well-used to fit the needs of their students, just as they do with other materials and teaching tools. When they can earn more and help their teams succeed, they have even more reason to ensure great use of technology.
See also:  How Digital Instruction Enables Higher Pay—This one-page overview shows the savings that blended-learning models can make available for higher teacher pay, more planning, and enhanced collaboration at the elementary and secondary levels.
Resources for digital instruction:
Since digital content is rapidly evolving, schools and teachers seeking to use blended learning face the challenge of finding the best resources for their students. We're hopeful that educators will increasingly have access to services that pull digital content together in one place and give them real-time information about what's working with what kinds of students. In the meantime, educators can find some resources that at least provide a view of the landscape, such as NewSchools Venture Fund's Ed Tech Market Map and EdSurge's products page.
As content evolves, so does the variety of programs implementing digital instruction. Innosight Institute has developed a database of profiles of blended learning programs. Users can filter profiles according to a variety of factors, including location, years in operation, focus (general, credit recovery, dropout prevention, or gifted and talented), model type, blended subjects, and specific technology used.