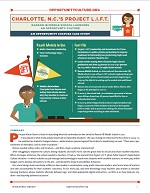 Our case studies provide in-depth looks at Opportunity Culture sites, and vignettes consider specific aspects of an Opportunity Culture. Check back often for more case studies and vignettes.
We are also on the lookout for online and offline discussions in which the Opportunity Culture Principles could bolster dialogue among teachers, administrators, policymakers, and thought leaders about promising strategies for dramatically improving student learning.
If you are aware of organizations, sites, or conversations related to this work and the Opportunity Culture Principles that we should consider for case studies, please contact us.
Days in the Life: The Work of a Successful Multi-Classroom Leader—How do Opportunity Culture multi-classroom leaders fit into a typical week all their duties? This vignette and accompanying video follow Okema Owens Simpson, a middle school multi-classroom leader, through several typical days in which she provides what her teaching team needs most to get the best student results.
Pioneering Multi-Classroom Leaders—Four pioneering multi-classroom leaders at high-need schools in Charlotte, Nashville, and Syracuse discuss in these vignettes and accompanying video their views of their roles, actions they took to lead their teams, mistakes they made, and how they recovered.
Pioneering Blended-Learning Teachers Reach More Students—In this series of vignettes and an accompanying video, two pioneering blended-learning teachers in Cabarrus County, N.C. explain how they structured their classes, learned from mistakes and made changes along the way, plus offer advice for other teachers.
---
The following case studies were written in the early years of Opportunity Culture. Some Opportunity Culture terminology has been updated since then.
Ranson IB Middle School Launches an Opportunity Culture looks at the early days of Ranson's implementation of two Opportunity Culture job models—Multi-Classroom Leadership and Time-Technology Swaps—and how an Opportunity Culture improved its recruitment and retention of great teachers.