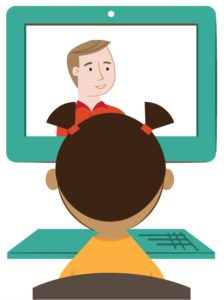 In response to the COVID-19 school shutdowns, we have created a resource table to provide a quick comparison of several popular online platforms and tips for using these, safely and securely, in online classrooms. The resources included here will be helpful if MCLs need to evaluate and select platforms to use with their team's students. When using any platform, educators should be sure it adheres to their district's privacy rules.
Quick Guide to Free & Cheap Technology to Engage with Students Online [Resource Table]
Tips for Leading MCL Team Meetings Remotely
Helpful Links for Educators Using Microsoft Teams

Some Opportunity Culture districts turned to their multi-classroom leaders (MCLs) in spring 2020 to create a library of engaging video lessons to supplement live instruction during the shift to remote learning. This deck shares tips from some of these MCLs on the mechanics of recording lessons, and how to create engaging lessons easily.
Creating Engaging Video Lessons: Tips from Multi-Classroom Leaders [Slide Deck]
Please share your thoughts with us on these and online resources!