Evaluate and Refine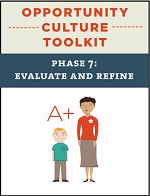 Click on the icon at left to view a PDF of this phase.
Building an Opportunity Culture requires a significant commitment from teachers and leaders at the school and district levels. It requires bold leadership, creativity, persistence, a willingness to do things differently, and a consistent focus on learning and refining the approach. Public Impact and our implementation partners encourage schools and districts to gather and review data continually to refine and improve Opportunity Culture model implementation.
Implementers should evaluate data to improve school model implementation in the short term, and to determine which approaches are most effective over time. Thus the district should develop evaluation tools that will help identify immediate improvement opportunities and measure the impact of its Opportunity Culture initiative on teachers and students.
This phase should result in a simple evaluation plan that includes clarity about what is being measured, how, when, and by whom. It should also describe how those data will be used to improve implementation of the Opportunity Culture school models.
This phase has five objectives: 
Identify staff or external evaluator(s) to lead the evaluation of the Opportunity Culture initiative;
Determine evaluation measures and align them with existing evaluation efforts;
Develop and/or customize evaluation tools, process steps, and roles;
Write a short evaluation plan; and
Implement the evaluation and improve reach implementation based on findings.

To download a PDF of Phase 7, click here.

Tools for Districts
Tools for Schools
*This tool is for both Districts and Schools