Implement Reach Models and Opportunity Culture Supports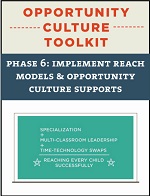 Click on the icon at right to view a PDF of this phase.
After careful planning and preparation, the district and schools will now convert plans into action so that schools can begin reaching more children successfully with excellent teachers and teams, for more pay and within budget.
Districts should provide ongoing guidance while participating schools implement the new reach-extension models in their classrooms, as well as offer additional resources to support schools as they build an Opportunity Culture. The district design team should work closely with school design teams, particularly throughout the first year of implementation, to ensure successful implementation of school-level Opportunity Culture plans.
In the sixth phase, district and school leadership will focus on these primary objectives:
Complete implementation of Opportunity Culture plans for year 1;
Engage school design teams in ongoing school-level adjustments; and
Continue to communicate with and receive input from educators, parents, and key community members about schools' efforts to reach more students with excellent teachers.
To download a PDF of this phase, click here.