Communicate and Prepare for Classroom Implementation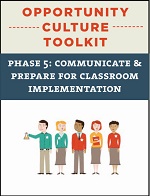 Click on the icon at right to view a PDF of this phase.
During this phase in the months before classroom implementation, the school design teams and district leadership will complete their plans, begin implementation steps, and engage all teachers and community members—steps outlined in the Opportunity Culture plan that each school and district creates.
Communications planning is particularly important. Teachers, parents, and other community members will want to know about changes in advance, and have the opportunity to ask questions and give input when feasible. School design teams can build understanding and support for an Opportunity Culture by strategically planning the key messages for each group of stakeholders and creating multiple opportunities for their feedback.

The primary objectives for this fifth phase are to:
Prepare for classroom implementation by completing district- and school-level planning, and starting implementation in talent, resources, and infrastructure;
Plan for and begin communicating with teachers, staff, and other key stakeholders; and
Plan for and begin communicating with parents and community members.

This phase, which you can download as a PDF, also includes a number of tools, with links below. The tools are worksheets designed to be completed online, or if you wish, to be printed before completing. For a complete list of tools for schools, click here. If you would like to see Human Resource tools, click here. For Budgeting tools, see here.

Tools for Districts
Tools for Schools
*This tool is for both Districts and Schools