Make Major School-Level Design Decisions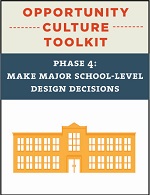 Click on the icon at right to view a PDF of this phase.
During this phase, principals and school design teams will begin developing plans to implement an Opportunity Culture at the school level. School teams will begin these plans by articulating a school vision, selecting and tailoring school model(s), and developing detailed staffing and scheduling plans. Building on the initial work of the school design teams that occurred during the third phase, the primary objectives of this phase are for the school design teams to:
Begin drafting school-level Opportunity Culture plans;
Create a school-level vision of an Opportunity Culture;
Select school models;
Develop staffing plans; and
Develop scheduling plans.
This phase, which you can download as a PDF, also includes a number of tools, with links below. The tools are worksheets designed to be completed online, or if you wish, to be printed before completing. For a complete list of tools for schools, click here. If you would like to see Human Resource tools, click here. For Budgeting tools, see here.
General Tools for Schools
Staffing Tools
Key Decisions Tools
Financial Tools
Scheduling Tools