Secure School-Level Commitment & Pre-Plan for Success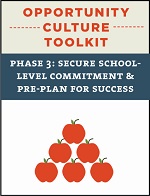 Click on the icon at right to view a PDF of this phase.
After making key design decisions to support the Opportunity Culture work, districts must secure a commitment from principals at potential sites. Principals should be committed to extending the reach of excellent teachers and building an Opportunity Culture at their schools from the beginning of the process.
Participating principals should then establish a school design team to help design, plan, and support the implementation of the Opportunity Culture initiative and extend the reach of excellent teachers. Districts must work hand-in-hand with principals to ensure they have the resources and support needed to conduct this work.
The primary objectives for this phase of work are to:
Introduce the Opportunity Culture/reach extension concepts to school leadership teams;
Secure school-level commitments to the work;
Select school design teams and introduce the initiative; and
Conduct school needs assessment.

This phase, which you can download as a PDF, also includes a number of tools, with links below. The tools are worksheets designed to be completed online, or if you wish, to be printed before completing. For a complete list of tools for schools, click here. If you would like to see Human Resource tools, click here. For Budgeting tools, see here.

Tools for Schools