Make District-Level Design Decisions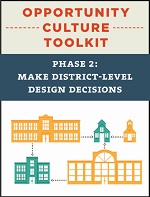 Click on the icon at right to view a PDF of this phase.
Once the district has committed to building an Opportunity Culture and has set its vision and major goals, the district design team should begin selecting the schools that will extend the reach of their excellent teachers and their teams for more pay, and providing guidance to these schools. The district team should start building its Opportunity Culture Plan that will guide all communications, serve as a checklist for changing district systems, and provide schools with clear parameters, while also allowing them flexibility to fit each school context.
District-level guidance should provide schools with clarity regarding recommended approaches to extending the reach of the excellent teachers in their schools while still providing schools with some autonomy over planning. In addition, this district-level guidance will establish consistency for the initiative within the district and across schools.
The primary objectives for this second phase of the work are to:
Establish selection criteria for participating schools;
Begin developing an Opportunity Culture Plan to guide implementation, and start redesigning the district systems that need to change;
Determine acceptable design parameters and school models;
Launch development of new district talent policies and practices;
Launch development of new resources and infrastructure policies;
Begin planning for teacher and community engagement; and
Ensure a supportive policy environment.
This phase, which you can download as a PDF, also includes a number of tools, with links below. The tools are worksheets designed to be completed online, or if you wish, to be printed before completing. For a complete list of tools for school districts, click here. For a complete list of tools for schools, click here. If you would like to see Human Resource tools, click here. For Budgeting tools, see here.
Tools for Districts