Commit to Building an Opportunity Culture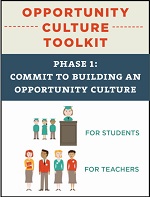 Click on the icon at right to view a PDF of this phase.
This initial phase has four primary objectives:
Secure commitment among district leadership to extend the reach of excellent teachers and build an Opportunity Culture;
Organize district design team to drive design and implementation;
Assess district readiness; and
Set overall vision for initiative.
This phase, which you can download as a PDF, also includes a number of tools, with links below. The tools are worksheets designed to be completed online, or if you wish, to be printed before completing. For a complete list of tools for school districts, click here. If you would like to see Human Resource tools, click here. For Budgeting tools, see here.
Tools for Districts