Opportunity Culture Teachers 2019–20
700
Teachers in Advanced Roles
1,968
Teachers Receiving On-The-Job Development on Teacher-Led Teams
Opportunity Culture Teaching Roles
Advanced Opportunity Culture roles are reserved for teachers with a track record of high-growth student learning. Team teacher roles are held by teachers with a typical range of prior effectiveness.
Before 2017–18, schools designing Opportunity Culture used a variety of roles to extend teachers' reach. All schools designing Opportunity Culture implementation plans since 2018 use Multi-Classroom Leadership, embedding other roles within multi-classroom leaders' small teams.
Multi-Classroom Leadership
Multi-Classroom Leaders: 391


Team Reach Teachers: 309


Team Teachers: 1,968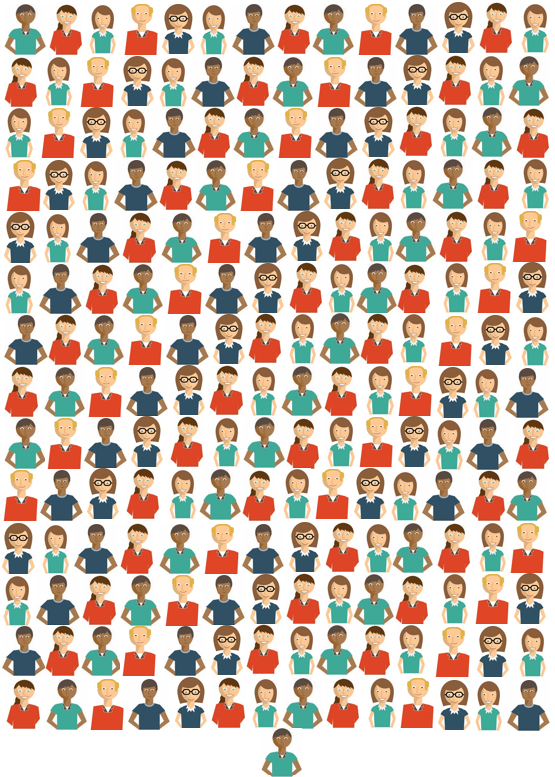 Multi-Classroom Leaders (MCLs)
Multi-Classroom Leaders (MCLs) are teachers with a record of strong student learning growth who continue to teach part of the time, in various ways, while leading a small subject or grade team, for much higher pay, within regular school budgets. These teacher-leaders do not just coach; they also co-plan, co-teach, model, lead student data analysis, and collaborate with their team teachers to ensure strong lessons and teaching methods while taking accountability for the learning outcomes of all the students the team serves. Multi-Classroom Leadership creates a strong environment of support, collaboration, and on-the-job professional learning for teachers; this also provides districts with an internal leadership development pipeline.
Team Reach Teachers
Team Reach Teachers extend their reach to more students; their specific roles vary by school. In schools that joined the Opportunity Culture initiative before 2018–19, some reach-extending teachers work on a team led by an MCL, while others teach independently. Beginning in 2018–19, all teachers who extend their reach in new Opportunity Culture schools work on MCL-led teams alongside team teachers.
Expanded-Impact Teachers reach more students by swapping some teaching time with paraprofessional-supervised projects and skills practice.
Elementary Specialists reach more students by specializing in their best subjects (in elementary schools) or roles on a team.
Blended-Learning Teachers rotate students between face-to-face learning and digital instruction, projects, and skills practice, typically on a schedule, allowing them to teach more students.
Team Teachers
Team Teachers work on a team led by an MCL, receiving intensive support from the MCL and working collaboratively as a team to review student progress and adjust instruction to ensure high-progress learning for every student. Each team teacher is accountable to the MCL for their contributions to the learning outcomes of each student, with specific goals and measures dependent on the role each plays.